Gatwick airport parking for windsurfers
By Jon Vickery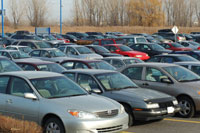 If you're flying from Gatwick, the need to get you and your windsurfing equipment to the airport in time means airport parking is a must.
After all, all that bulky windsurfing equipment - boards, sails, etc - needs to get there one way or another. And the good news is that booking airport parking needn't be expensive.
With HolidayExtras.com, a wide range of airport parking options are available at a price that will suit you. We provide off-airport parking for windsurfers that won't eat into your holiday budget, on-airport parking ideal for windsurfers that's just minutes from the airport terminal, or even better for windsurfers, a Meet and Greet service. For those travelling with windsurfing equipment, this proves particularly valuable as you can drive direct to the terminal to unload your equipment while your car is taken by one of our fully-insured drivers to a secured car park.
For more details on parking at Gatwick for windsurfers, simply follow the links below:
Still not sure which car park to book? Let our customer reviews offer some guidance.
Remember to book your airport parking, airport hotel and airport lounge with HolidayExtras.com.