Available on all hotel packages except those marked
can't cancel, can't amend
£73
.00*
including 8 days parking
4-star convenience and facilities
If Gatwick airport hotels were cakes, then the Crowne Plaza Gatwick would be the one with just that little bit of extra icing on the top. This is the hotel where they're so keen you get a good night's sleep, you don't just get blackout curtains, air con and a flatscreen TV in your room, but a set of aromatherapy products designed to speed you along to the land of nod. Where breakfast isn't just sausages, beans, bacon and eggs, but kippers, pancakes and muffins too. Admittedly probably not with icing on, but at the Crowne Plaza, we couldn't swear to it ...
Our customers rated Crowne Plaza on average 9/10 (915 reviews).
If you're after airport parking as well as a good nights sleep, the Crowne Plaza has teamed up with Purple Parking, formally Airparks, to offer our customers a great deal on a hotel and parking when booked together.
Electric cars - at the Crowne Plaza Gatwick Airport there are 3 electric car charging points available. These are provided by the POLAR network. Find out more here.
1 weeks parking from as low as £10 with Crowne Plaza and Holiday Extras Express Parking.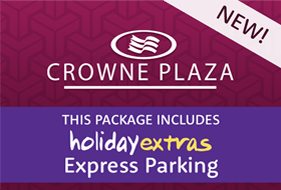 This is an EXCLUSIVE package only available through Holiday Extras. Combine your room with fuss-free parking at the hotel.
How it works:
Once at the Crowne Plaza follow signs for the designated Holiday Extras Express parking area. Check-in your car by dropping your keys off in the Holiday Extras locker located in reception. You'll be issued a confirmation receipt - be sure to tuck this in a safe place. It's as easy as that! Your car will be taken to a secured car park off-site and brought back to the hotel on your return.
Read more
How to book:
Enter your dates at the top of this page and click 'Search'. You'll find Holiday Extras Express parking package (along with other parking options) contained within the Crowne Plaza listing.
The Crowne Plaza is a well-known, 4-star hotel boasting high spec bedrooms, an award winning restaurant and a free, fully equipped gym.
From as little as £10* you can add 1 weeks Holiday Extras Express parking to your room booking - Gatwick parking doesn't get much cheaper than that! Enjoy a relaxing night's sleep knowing your car is all taken care of and you're just a short transfer away from Departures. Catch the hotel's shuttle bus to and from the airport - it's 10 minutes to the South Terminal and 15 minutes to the North Terminal.
When you book with Holiday Extras you will be getting a deal that cannot be booked anywhere else, not even direct with the hotel.
* Price quoted here is correct at the time of writing but is subject to change. Please search for availability and prices for the dates you require.
Top