Available on all hotel packages except those marked
can't cancel, can't amend
£73
.00*
including 8 days parking
5.3
miles
from the airport
4-star convenience and facilities
If Gatwick airport hotels were cakes, then the Crowne Plaza Gatwick would be the one with just that little bit of extra icing on the top. This is the hotel where they're so keen you get a good night's sleep, you don't just get blackout curtains, air con and a flatscreen TV in your room, but a set of aromatherapy products designed to speed you along to the land of nod. Where breakfast isn't just sausages, beans, bacon and eggs, but kippers, pancakes and muffins too. Admittedly probably not with icing on, but at the Crowne Plaza, we couldn't swear to it ...
If you're after airport parking as well as a good nights sleep, the Crowne Plaza has teamed up with Purple Parking, formally Airparks, to offer our customers a great deal on a hotel and parking when booked together.
Electric cars - at the Crowne Plaza Gatwick Airport there are 3 electric car charging points available. These are provided by the POLAR network. Find out more here.
1 weeks parking from as low as £10 with Crowne Plaza and Holiday Extras Express Parking.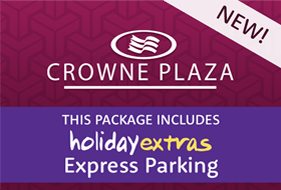 This is an EXCLUSIVE package only available through Holiday Extras. Combine your room with fuss-free parking at the hotel.
How it works:
Once at the Crowne Plaza follow signs for the designated Holiday Extras Express parking area. Check-in your car by dropping your keys off in the Holiday Extras locker located in reception. You'll be issued a confirmation receipt - be sure to tuck this in a safe place. It's as easy as that! Your car will be taken to a secured car park off-site and brought back to the hotel on your return.
Read more
How to book:
Enter your dates at the top of this page and click 'Search'. You'll find Holiday Extras Express parking package (along with other parking options) contained within the Crowne Plaza listing.
The Crowne Plaza is a well-known, 4-star hotel boasting high spec bedrooms, an award winning restaurant and a free, fully equipped gym.
From as little as £10* you can add 1 weeks Holiday Extras Express parking to your room booking - Gatwick parking doesn't get much cheaper than that! Enjoy a relaxing night's sleep knowing your car is all taken care of and you're just a short transfer away from Departures. Catch the hotel's shuttle bus to and from the airport - it's 10 minutes to the South Terminal and 15 minutes to the North Terminal.
When you book with Holiday Extras you will be getting a deal that cannot be booked anywhere else, not even direct with the hotel.
* Price quoted here is correct at the time of writing but is subject to change. Please search for availability and prices for the dates you require.
Tastily-prepared menu with nicely-priced kids' meals and enticing breakfast choices. Free gym, wifi included.
Getting to the airport
The hotel can book you a taxi to the airport. It takes 15 minutes to get to the South Terminal and another five minutes to the North and costs £21 each way.
A taxi outside of these hours is about £12 per car each way - just ask at reception for help.
Parking
Overnight parking is available and costs £12 per car.
This package doesn't include parking while you're away. If you need to park your car for the duration of your trip, search for an airport hotel with parking package instead.
Hotel location
The Crowne Plaza is around 10-minutes from the South Terminal and 15-minutes from the North Terminal.
Full driving instructions and a postcode for satnavs will be on your confirmation email if you need them.
If you're travelling by train, Gatwick station is on the lowest level of the South Terminal. A taxi to the hotel will take about 10 minutes and cost around £12.
Check-in from 2pm, check-out by 12 noon.
Rooms
Standard bedrooms at the Crowne Plaza are spacious with soundproofed windows and White Company toiletries. Rooms include:
Flat screen TV
Free wifi
Room service (with a £3.50 tray charge)
Tea and coffee
Phone
Hair dryer
Iron
White Company toiletries
Wifi
There is free wifi throughout the hotel. It was fairly slow when we visited in 2016, so we'd recommend paying £5 to upgrade to high-speed.
Accessibility
Hotel accessibility includes:
6 blue badge parking spaces outside the main entrance
Ramps to the reception, bar and restaurant
Lift to the rooms
Accessible rooms include:
Emergency pull cords
Grab bars and handrails
Roll-in shower or lowered bath
Raised toilet and accessible bathroom
The hotel also has visual and audible smoke alarms and vibrating pillows for any guests with hearing or vision impairments. Service dogs are also welcome.
Restaurant
The award-winning Cube restaurant serves a mix of locally-sourced, British and international dishes. Main meals average around £16.95pp.
Kids menu available, 2-courses for £8.95.
Open from 6pm to 10.30pm.
Bars
The Cube Bar and Lounge serves a range of lighter dishes along with hot and soft drinks in an informal setting.
Open from 6am to 1am.
Bar 92 is an airy space with an outdoor terrace where you can get hot and soft drinks, beers, wine, spirits and snacks.
Open from 6am to 11pm.
Breakfast
It's an English and continental buffet and you can save nearly £4.50 per person when you book it through us.
Served from 6am to 10.30am during the week and until 11am at weekends.
Things to do
There is a fully-equipped gym on site.
It's open from 6.30am to 9.30pm and is free to use.
Crowne Plaza address
Langley Drive,
Crawley,
West Sussex,
RH11 7SX
Crowne Plaza Additional Information
Star rating
Address
Langley Drive,
Crawley,
West Sussex,
RH11 7SX
Breakfast
Served 6am to 10.30am on weekdays and until 11am at weekends
It's an English and continental buffet and you can save nearly £4.50 per person when you book it through us.
Breakfast times
6am to 10.30am on weekdays and until 11am at weekends
Breakfast price
£16.95
Disabled facilities
Hotel accessibility includes:
- 6 blue badge parking spaces outside the main entrance
- Ramps to the reception, bar and restaurant
- Lift to the rooms

Accessible rooms include:
- Emergency pull cords
- Grab bars and handrails
- Roll-in shower or lowered bath
- Raised toilet and accessible bathroom

The hotel also has visual and audible smoke alarms and vibrating pillows for any guests with hearing or vision impairments. Service dogs are also welcome.
Wi-Fi
Restaurant
Room service
All rooms non-smoking
En-suite bathroom
Iron
Trouser press
Kettle
Radio
Phone in room
TV
Satellite TV
Top