Manchester airport hotels for windsurfers: customer reviews
By Jon Vickery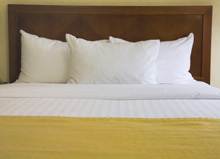 Staying at an airport hotel can be a great way to start your windsurfing holiday, removing the hassle and stress of making your way to the airport in heavy traffic or poor weather conditions.
If you have never stayed at an airport hotel before you arrive at your windsurfing destination then you may wish to know what to expect and if it is worth the price? So what is the best way of doing this without actually experiencing it yourself?
The answer is customer reviews - something Holiday Extras prides itself on offering to all potential customers. Before you make your booking you will find a large selection of customer reviews on our website pages for each and every airport hotel we offer.
These reviews come from genuine customers who have been kind enough to provide us with feedback on their windsurfing holiday experience. Taking a scan through these will provide you with all the information you need to help you make an informed choice as to the suitability of the particular hotel. Why not take a look today and book in confidence with Holiday Extras? Remember we take the hassle, you take the holiday.
"Everything was wonderful, which takes the stress out of flying. Staff were pleasant and transport to and from the airport fast and efficient."
Mrs Forster
"The car park attendants were superb, the bus drivers to and from the airport were very friendly and helpful, and we had a very pleasant stay over at the Hilton Manchester."
Mrs Roper
"Excellent stay at the Holiday Inn. Everything went very smoothly and the location was perfect for an early trip to the airport. Would definitely use this site and hotel again."
Mr Homer
Holiday Inn
Remember to book your airport parking, airport hotel and airport lounge with HolidayExtras.com.