Before your windsurfing holiday
By Jonathan Clarke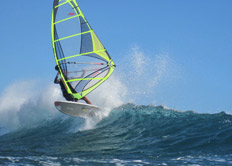 Being fully prepared for your time away is the key to making sure you have a safe and enjoyable windsurfing holiday.
From picking the right destination down to what to pack, even the smallest detail can make a difference.
This section of our guide to windsurf travel answers all the questions you may have before you leave home, leaving you as well prepared as possible.
Remember, Holiday Extras is the place to be for all the leading travel advice. We take the hassle, you take the holiday.
Remember to book your airport parking, airport hotel and airport lounge with HolidayExtras.com.