Heathrow airport hotels: customer reviews
By Michael Johnson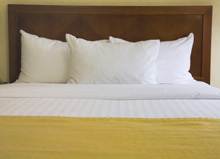 At HolidayExtras.com, we pride ourselves on giving an honest appraisal of each and every property we sell.
But we also know that the word of your fellow traveller means much more. That's why we're delighted to present an array of feedback from former customers that have enjoyed a Heathrow airport hotel stay.
"Everything ran very smoothly. The facilities were as described and expected. The hotel staff were more than helpful and the breakfast was excellent."
Miss Garner
"The Marriott at Heathrow was an excellent choice and one we will certainly book again when flying from Heathrow. The staff were helpful, service excellent and the transfers to and from the airport went without a hitch."
Mrs Rees
"Excellent start to our holiday, felt relaxed and ready for our flight instead of stressed and worn out following a long drive to the airport. No worries about secure parking and at a very reasonable cost."
Mr Thornton
"The Premier Inn at Heathrow was excellent and we will certainly use it again. The buffet breakfast was superb, the staff very efficient and friendly, and the accommodation (after flying for almost 15 hours) was perfect. Really good value for money. Thank you."
Mrs Guy
Remember to book your airport parking, airport hotel and airport lounge with HolidayExtras.com.