Birmingham airport hotels: customer reviews
By Jonathan Clarke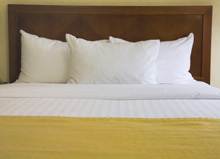 We're the first to acknowledge that the opinion of past customers matters a great deal to fellow travellers.
That's why we're delight to present a number of customer reviews of Birmingham airport hotels. Take a look at what our former customers had to say before you make you decision.
"Excellent location and the evening meal was first class. Would definitely stay here again if flying from Birmingham."
Mr Davies
"It was easy adding overnight hotel accommodation to our booking. We'd definitely use you again."
Mrs Webb
"A really first class service. Hotel was superb, car parking was secure, hotel transport to the airport quick and simple, so was the pick up. Oh yes we will be using you again."
Mr Dixon