Stansted airport hotels for windsurfers
By Jonathan Clarke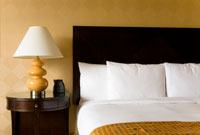 If there's one thing you'll need just before a windsurfing holiday then it's rest, and plenty of it.
Rest and relaxation is something that's in abundance at our Stansted airport hotels, perfectly placed to give you a great night's sleep before your windsurfing adventure.
So you know that an airport hotel can help you have longer in bed on the day you fly and also mean that you avoid having to rush all your gear to the airport by heading up a day early. So where to stay? Well, hands-down the best option for a windsurfer is an on-airport hotel.
On-airport hotels such as the Hilton Stansted, the Holiday Inn Express and The Raidsson Blu Stansted are purpose-built to be near to the airport to offer maximum convenience, which is a great thing with windsurfing gear. After a night's stay you'll just need to make the short hop across to the terminal. The Radisson Blu is even directly connected by a covered walkway, making getting your windsurfing gear to the terminal even easier.
But what if you've spent your entire budget on securing that dream windsurfing holiday in Hawaii but you still want the convenience and security of an airport hotel? An off-airport hotel means you'll still be sleeping close to Stansted but it's a little easier on the holiday funds than a hotel that's on-airport. It's a little extra hassle as you'll have to get your windsurfing gear on a transfer bus, but that money you save could go a long way on holiday. So just think of that as you're loading up your kit.
All our hotels at Stansted airport can be booked with a parking package, here's a list of all the hotels we provide rooms for at Stansted. You can also visit our Stansted airport hotels page for more information. To see what previous customers have to say you can check out our customer reviews page.