Manchester airport lounge windsurfing reviews
By Jon Vickery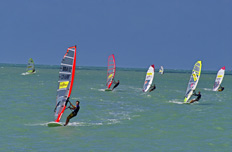 If you are planning on booking yourself a Manchester airport lounge then you may wish to take a look at our customer reviews that provide you with the written experiences of previous customers.
Here at Holiday Extras we believe that you shouldn't just take our word for it before you travel on a windsurfing holiday, and is exactly why we provide these reviews for you to browse at leisure. Our detailed information and photographs coupled with genuine customer reviews should be all you need to make an informed choice before you book. What better way could there be to judge the suitability of a location for windsurfing than to hear from others that have tried it?
If you want to start your active windsurfing holiday in a relaxed fashion then an airport lounge will be just the job. Arrive up to three hours before you fly and make your way to the lounge, where you can escape the crowds and relax in peaceful and tranquil surroundings. Complimentary snacks and drinks as well as daily newspapers help you while away the time before your flight. With so much activity about to take place on your holiday this is the ideal time to kick back and enjoy some 'downtime'.
Once you have tried a Manchester airport lounge it will be very hard to consider flying any other way in future. So why not give one a try and begin your busy windsurfing holiday with a bit of relaxation?
"Executive lounge excellent start to any holiday I would definitely recommend using it and booking through Holiday Extras, nice and easy."
Mrs Turner
The Styal Servisair Lounge (Terminal 2)
"We thoroughly enjoyed our visit to the lounge at Manchester Airport, staff friendly and attentive (asking if we were ok and had we got everything we needed). Shall definitely use this again."
Mrs Plant
The Styal Servisair Lounge (Terminal 2)
"The perfect start to our holiday, the selection of drinks and snacks was excellent, very good value, relaxing and comfortable."
Mr Swift
The Bollin Servisair Lounge (Terminal 1)
Remember to book your airport parking, airport hotel and airport lounge with HolidayExtras.com.