Stansted airport hotels: customer reviews
By Jonathan Clarke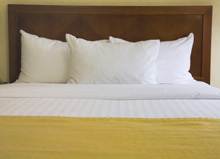 It's one thing for us to say how great we think our Stansted airport hotels are, but it's another thing when it comes from our customers
This page has just a few of the things that you've been saying about our hotels at Stansted airport.
"The hotel was very clean, convenient and reasonably priced. It was especially handy to be able to park so close to the hotel so that we could unload so easily. I would certainly recommend it."
Mrs Campbell
"Your facility for choosing airport parking and hotel (often cheaper than just parking) is a dependable service on which I often rely. Who wants to get up at some ungodly hour and drive half-awake to the airport with the real and ever present risk of delay?"
M Lloyd
"The Radison Blu at Stansted is a great hotel, zany colours in the bedroom but all the better for that, a change from magnolia. The wine tower is also quirky but most fascinating and awesome what the trapeze artists do to select the wine bottles! A great hotel in a great position, next door to the terminal!"
Mr Bartley
"The quality of the Warmans Hotel was superb, the room was warm and welcoming and very spacious and the food in the Ash Pub was great. Will definitely be using this hotel in the summer."
Mrs Burrell
Remember to book your airport parking, airport hotel and airport lounge with HolidayExtras.com.