Heathrow airport lounges: customer reviews
By Michael Johnson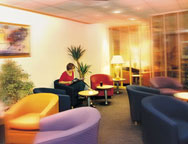 Unsure whether to book an airport lounge at Heathrow? Need some reassurance as to their quality?
Why not take a look at some of our customer reviews of Heathrow airport lounges, and see for yourself what others have to say about booking with HolidayExtras.com.
"Great way to start a holiday, totally stress free and great service. Would recommend the experience to anyone."
Mr Winters
Heathrow Servisair Lounge (Terminal 1)
""We had never used an airport lounge before but decided that, as it was our honeymoon, to treat ourselves! We were thrilled with the set up, the service, the facilities and the amenities available. It certainly made for a very chilled out start to our married life. We'll be booking lounges again in the future, it really did help to make the holiday."
Mr Blinstone
Heathrow Servisair Lounge (Terminal 3)
"The service I have received has been of the highest standard. Helpful, well trained professional staff ensure that I will continue to use your service."
Mrs Butt
Heathrow 4 Deck Lounge (Terminal 4)
Remember to book your airport parking, airport hotel and airport lounge with HolidayExtras.com.