Birmingham airport lounge customer reviews
By Jonathan Clarke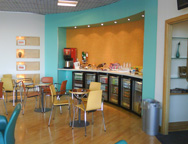 It means so much more when praise for our airport lounges comes directly from the people that use them: our customers.
So if you still need convincing, here are some of the things our customers have been saying about our Birmingham airport lounges.
"So relaxing a perfect start to any holiday or business trip."
Mr Dutton
"Friendly staff, clean welcoming, a tranquil haven in a busy airport."
Mrs Heck
"As usual we were looked after really well and you gave us a really relaxing start to our holiday. Our plane was delayed and it was much more pleasant staying in the Servisair lounge than the general departure lounge. Thank you."
Mr Perkins