Faster and smarter in the app...
Open app
3 days

car hire from only £11.03 per day and FREE cancellation options*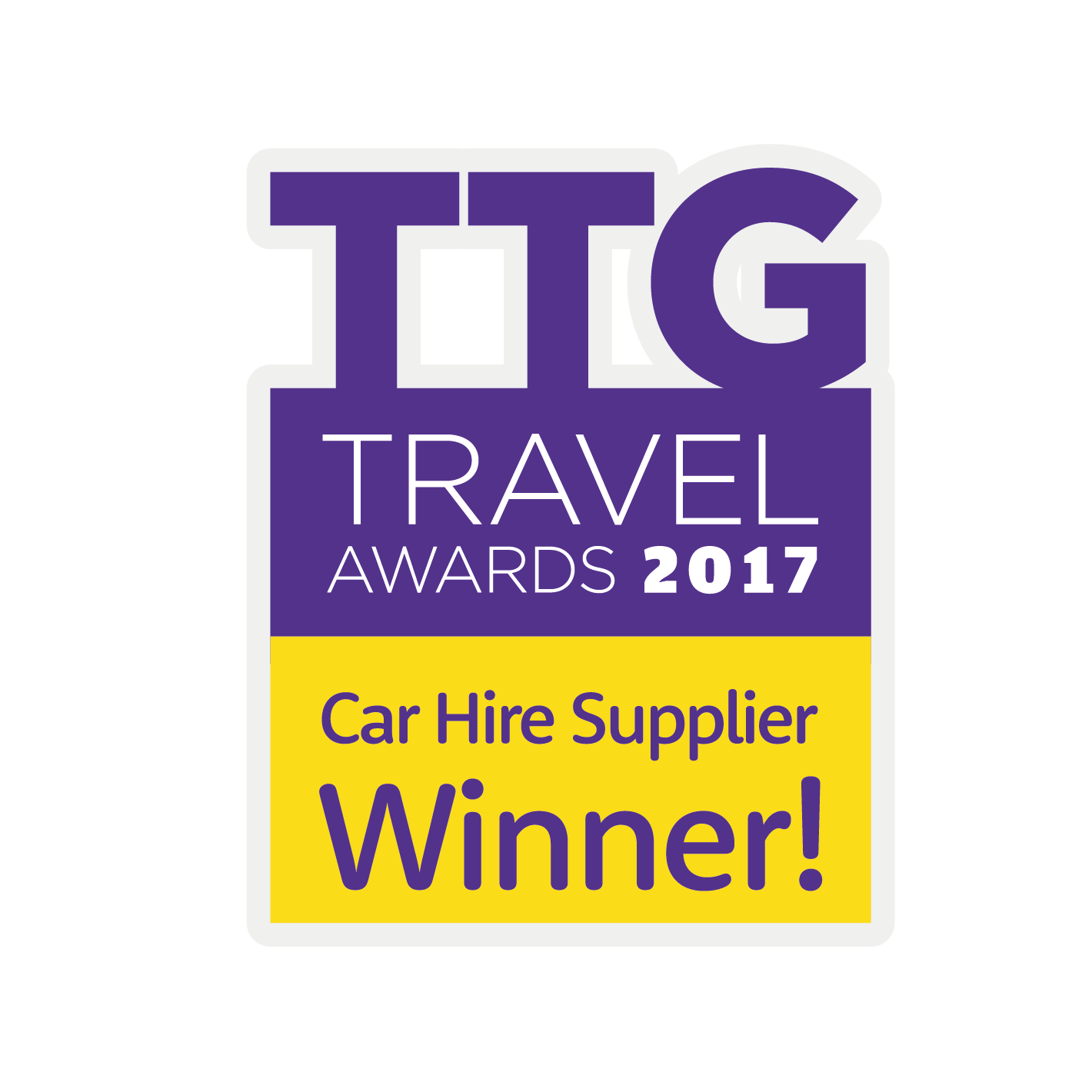 At only 9 miles by 5 miles in area, the island of Jersey in the Channel islands may be small, but it punches above its weight in the tourism stakes. Being around an hour's flight from the UK and with daily flights from major airlines, it's perfect for a short break or longer stay. Jersey is rich in military history and, alongside this, there is beautiful countryside, with sweeping sandy beaches, picturesque towns and glorious blue waters. With its mild climate, the whole island has a continental vibe about it and you will feel as if you are abroad, whilst being on British soil. Being a small island makes it perfect to explore by road, which makes car hire from Jersey Airport an ideal option. We offer a range of vehicles for pick up from the airport, meaning you can start to see the sights as soon as you land.
By choosing Holiday Extras for your Jersey car hire, you can be rest assured you're booking with an award-winning and trusted provider. We've done all the hard work in advance by regularly comparing and price checking all the main companies who offer Jersey car hire to make sure we bring you the best deals so you have the best value for money.
View of the coast at Gorey from Mont Orgueil Castle, Jersey
Jersey sights and attractions - distance by hire car from Jersey Airport
| Location | Distance in Miles | Estimated Travel Time |
| --- | --- | --- |
| St Aubin | 3 miles | 10 minutes |
| St Ouen | 4.2 miles | 10 minutes |
| St Helier | 4.8 miles | 13 miles |
| Mont Orgueil Castle | 9.4 miles | 28 minutes |
As well as great prices, we also have a superb range of vehicles too for all your Jersey car rental needs. We can offer 3-door hatches hatchbacks, ideal for the narrow streets of Jersey's towns and villages, larger 5-door family cars and robust SUVs- great for touring the countryside and even luxury cars for those looking for something a bit special!
Typical Prices for Car Hire Jersey Airport*
| Type of Car | Number of Seats | Price per day |
| --- | --- | --- |
| 3-door hatchback | 4 seats | £18.25 per day |
| 5-door hatchback | 5 seats | £18.75 per day |
| SUV | 5 seats | £43.40 per day |
| People carrier | 7 seats | £71.05 per day |
*The prices quoted are based on one driver, aged 25, with a full UK driving licence hiring a car for 3 days, picking-up and dropping-off in Jersey Airport. Prices correct at time of writing. Subject to change according to availability. Free cancellation applies to most rentals up to 48 hours before pick up, however some suppliers may charge. Please check supplier terms and conditions carefully.
Here at Holiday Extras, we aim to make your trip as hassle-free as possible . As well as car hire, we also offer total protection insurance offering great value for money. All our policies are regularly price-checked to ensure we are bringing you top cover and they all include the following:
Damage and theft excess
Damage protection for all mechanical and exterior of the car
Cover for any immobilisation, admin and towing charges
Free cancellation and changes up to 48 hours before travel

4 simple steps to cheap car hire from Jersey Airport

Search - Select your required travel dates and click search to compare
Select - Choose your required vehicle type
Book - Make your payment using our secure system
Confirm - We'll email your booking confirmation to you

We're here to help!

Once your payment transaction is completed, we will confirm your booking reference number by email. Keep this handy, as you'll need it when you come to pick up your rental car at Jersey. Some of the main car hire companies now even accept payment by debit card so you no longer have to pay by credit card. If you have any questions about car hire in general, then check out our useful checklist packed with frequently asked questions and information.

If there's anything else you want to know about car hire, then our dedicated team are here to help on 0800 804 7362. You can also contact us online here.

Collecting your rental car

Jersey Airport (JER)

Two of the car hire operators - Hertz and Europcar, have desks in the Arrivals Hall at Jersey airport. If you are booked with either of these companies, then just give them your booking confirmation when you have passed through baggage reclaim and they will be able to issue you with your keys. They also have an on-site car park where all their hire vehicles are based.

Other companies, such as Avis, do not have desks based in the actual terminal itself, but they have off-site facilities and run a customer transfer service direct to their office and car park. Offices are generally open from 8.00 am until 8.00 pm during summer months and 8.00 am until 7.30 pm during the winter.

Driving around Jersey

With a Jersey hire car, you'll be able to explore all corners of this beautiful Channel island. If history is your thing, then there are many landmarks charting Jersey's history of occupation and defending itself against invasion, including Mont Orgueil Castle. Just off the coast of St Aubin, lies Elizabeth Castle, which can be reached on foot at low tide only. One of the best beaches on the island can be found at St Ouen's Bay, whose waves are great for surfing. Along the south coast, there are sheltered stretches of sand, St Aubin's and St Brelade's Bay where you can soak up the sun and sample local cuisine in one of the sea-side restaurants. Away from the beach, there are botanical gardens, a host of museums and family attractions, including a zoo to enjoy.

Don't miss out on our other extras!

Instead of car hire for your Jersey trip, you're just looking for help to get to your destination, then, don't forget, Holiday Extras also provides superb savings on resort transfers. We also have excellent value holiday insurance, just to give you that extra peace of mind.

We can also help with other extras to make your trip even more memorable. If you're flying from a UK airport, such as Gatwick; we could help you save up to 60% on airport parking, airport hotels and airport lounges too.

Driving in Jersey**

Being part of the UK, the Channel Islands, including Jersey, adhere to the same driving laws as Great Britain. Cars are all right-hand drive and the road signs are all in miles.

Useful Driving Information

Right hand drive vehicles - Drive on the left, overtake on the right.
Minimum car hire age - 18 years old. Under 25's may have to pay a young driver surcharge. Carry your driving licence with you.
Seatbelt - It is compulsory for occupants to wear a seatbelt. The driver is responsible to ensure that all passengers under the age of 18 are wearing a seatbelt.
Travelling with children - Children under three years of age, as well as those under 135cm in height must use the correct child seat/child restraint system.
Petrol Stations - There are a number of filling stations across the island, ranging from family run businesses to national chains. Fuel is typically priced on a par with the UK mainland and stations are open from about 8.00 am until 8.00 pm or 9.00 pm.

Road safety laws

Speed limits

Main Island Speed Limit - 40mph/64kph
30mph & 20mph zones - There are a large number of 30mph and 20mph zones in towns and villages across the island.
Green Lanes - These are found in rural parishes where the speed limit is just 15mph and right of way is given to pedestrians, cyclists and horse riders.

Please always check the road signs for local speed limits. Although there are no fixed speed cameras in Jersey, mobile speed cameras are common place. If you are caught speeding, you will be liable to points on your licence and a fine as is the case on the UK mainland.




Road Safety

Filter in Turn - This is a local driving phenomenon to Jersey and occurs when you approach a junction or turn and priority is given to traffic on your right. Once they have moved, it will be your turn and traffic on your left will then give way to you. The Filter in Turn rule helps to keep traffic flowing.

Mobile Phones

It is illegal to use a hand-held mobile phone whilst driving. You can be liable to receive fixed penalty notice if you are caught using a hand-held phone while driving. This could involve a substantial fine and 3 points on your licence. Hands-free kits are permitted.

Drinking and driving

If you are stopped by the Police because they suspect you have been drinking, they will ask you to undertake a breathalyser test. The limit for all motorists is 80mg of alcohol per 100ml of blood - the same as the UK.

It is important to note that drinking alcohol and then driving may invalidate your car rental insurance, irrespective of local drink driving laws. Check your policy for full details.

Driving licence

Important Information - Changes to the UK Driving Licence

If you have a UK driving licence you are permitted to drive in Northern Ireland without the need for an International Driving Permit

---

**This information should be considered as a broad overview of things to remember when hiring a car. It is therefore very important that you read the rental terms and conditions and associated policies for your own specific policy as well as doing your own research into the motoring laws of the country in which you will be driving.

Top