Faster and smarter in the app...
Open app
Romantic City Breaks On A Budget
Love and travel make happiness.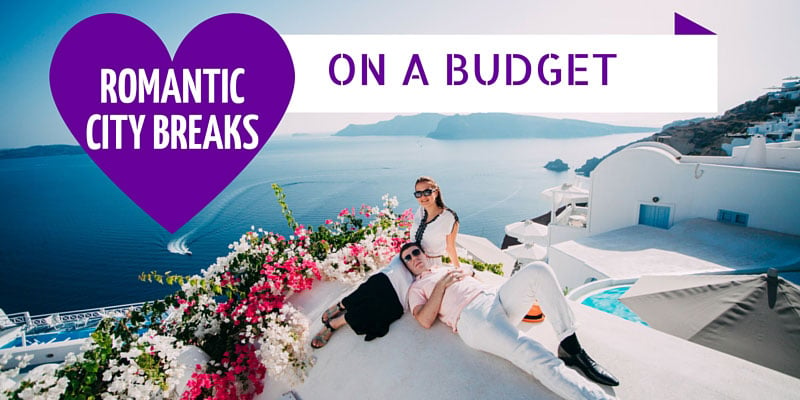 With the annual Valentine onslaught looming, many of us feel the need to make a romantic gesture. Here at Holiday Extras HQ we're not averse to a bit of amore on our travels, and we think it can be achieved without breaking the bank.
Tips for a Romantic Budget City Break
Why wait until the weekend?
Choose a weekday rather than the weekend to travel and you should already be stashing valuable cash. Most loved-up travellers will book a Valentine's break for the weekend before the day itself and pay more for the privilege. This year it falls on a Thursday, so the following weekend will no doubt be very popular too. If you can take the time out, why not set off on Monday or Tuesday instead?
Love is in the air
As we all know, the no-frills airlines generally offer the cheapest flights. Often the budget airport is further from the city than the standard hub, but if you and your Valentine are prepared for a bit of extra travelling then you'll cut costs. Don't forget to check the public transport at your destination airport though. The ardor may begin to fade after two hours at an Eastern European bus station in the early hours - unless it's a very new relationship.
Do you come here often?
Go wild. Forget predictable Paris, Rome or New York and consider Hungary's capital city Budapest, Lisbon in Portugal, the Slovenian capital Ljubljana, or the hot Turkish city of Istanbul. These alternatives to the classic city break destinations are cheap and cheerful while you're away, and getting there's affordable too.
Your place or mine?
Trawl the hotel booking sites for the best deals and don't dismiss lower star-rated or quirky accommodation. Staying in a small guest house in an off-beat part of town may well be more memorable in years to come than a generic four or five-star chain in Tourist-ville, as well as kinder on the pocket.
Airport romance
If your bargain flight time is truly passion-killing, a night in an airport hotel before you fly might reignite the spark. Pack your own Prosecco to get the party started, or, for a more James Bond-style touch, pre-order a bottle of champers for your room. The price is often lower if you order extras at the time of booking rather than waiting until you're at your hotel.
A few hours in an airport lounge on the day of your flight can also add a touch of indulgence to any holiday.
Let's do it!
Once you've arrived at your destination hotel, you're ready to explore your chosen city, hand in hand with the one you love. Keep control of the budget by buying the transport and attraction passes available in many destinations; and also look for interesting alternative sights off the standard tourist trail. They can be cheaper or even free, and much more charming.
You're in love! Take invigorating walks through the city streets and parks, linger in free museums and galleries, enjoy freebie arts and music events. Just remember to bring your winter woolies. Hyperthermia is not sexy.
Eating out can soak up plenty of spending money, so try something different. Indulge in some street food, head to a supermarket, be brave and enjoy a winter picnic. Student areas are always lively locations where you can grab a bargain bite.
Even if money's no issue, this kind of break can be refreshing and fun. Try it, you might like it!
What are your tips for romance on a shoestring? Tell us below, and if you enjoyed this post like us on Facebook and follow us on Twitter or Google+. For more inspiration on where to go, check out our best holiday destinations.
Top
---
---