Faster and smarter in the app...
Open app
14 Things I Wish I'd Known Before Visiting Brighton Pride
Top tips for a fabulous day celebrating LGBT+ Pride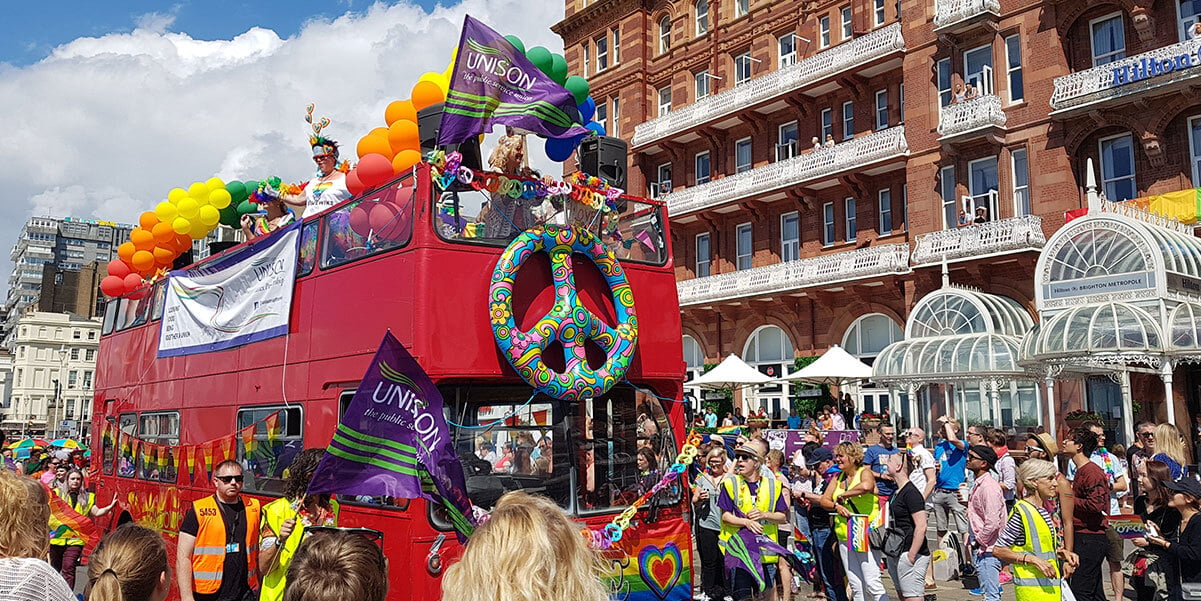 By Jake Turnbull
Nothing seems to draw reaction from fellow LGBT+ people like revealing you've never been to pride. I decided that this was the year I'd finally take the plunge - and chose Brighton Pride as my first celebration. Not only is it the biggest pride event in the UK, but it's also by the seaside. Perfect summer location.
Brighton Pride is held in August, and this year the event attracted over 300,000 people. Visiting such a huge event, not to mention city, for the first time was intimidating. How do I travel to pride? What is there to do in Brighton? Will it be vest weather? How much are the drinks at pride?
I had an absolutely brilliant time. There were rainbows everywhere, glitter everywhere else, amazing costumes and a fantastic atmosphere. Society has made leaps and bounds towards acceptance, but as an LGBT man, there are few places where I've ever felt so completely comfortable, accepted and welcome.
Here's the catch - there are a lot of things I wish I'd known before I visited, which may have made my big gay day out even more awesome.
1. BUSY ISN'T ALWAYS A BAD THING.
Whether they were warning me about road traffic, queueing at bars or finding a good place to see the Brighton Pride parade, everyone kept telling me how busy it was going to be. My advice? People exaggerate how much this will bother you.
The parade is spread over a huge distance, which thins the crowd. If you watch from the gorgeous seafront like I did, there's plenty of room and you won't miss a single sequin of the parade. My train journey went very smoothly, and there were very effective crowd management procedures in place at the station. There are plenty of bars through the town, and the longest I waited for a drink might have been 5-10 minutes. I had an awesome time, and people traffic was rarely a big inconvenience. Don't let it put you off!
2. THERE'S TOO MUCH TO DO IN ONE DAY
One of my top tips for Brighton Pride? Don't plan to do everything. You can't, and won't. The celebrations are spread out over the entire city, and walking between them will take up a lot of your time. Visiting and staying overnight is ideal.
If you can only stay for a day, visit the Brighton Pride website before you go. Make a list of what you want to do - it might go out the window once you've arrived, but at least you have an idea of all the pride activities.
3. DRESS FOR THE OCCASION
This was my first LGBT Pride, so I really didn't know what to expect. I dressed as I would expect to for a summer's day at a seaside town, and I ended up looking like someone's Dad. Revel in the gayness! Buy rainbow merchandise and have yourself a great time.
I almost felt left out by being dressed in civies. Everyone is wearing face paint, bright colours, rainbows and slogans. Part of the camaraderie is in dressing in as crazy and fun an outfit as you can put together - with as many colours as you own.
4. THE TRAIN IS CHEAP
IF you don't go via a city, like London. The route to Brighton Pride from my station in central Kent to Brighton via London cost over £50 for a return. Taking a longer route along the south coast cost a cool £15.70 for a return. Saving money + not driving = more cocktails.
The journey along the coast was lovely, and you'll also meet plenty of people along the way. Oh yeah, strangers will talk to you. The vibe is so positive, that it brings out the friendliest side of everyone. I can say confidently that my day would not have been as much fun if I had driven.
5. WHILE YOU'RE THERE
The Brighton Pride parade begins at 11:00am on the seafront, and although it continues into the afternoon, you'd be forgiven for leaving after an hour or so. There's only so long that you can stand and shout and wave before you need a drink, or a change of scene.
There's loads of things to see and do in Brighton, even if you aren't into the party scene. The city is covered in art venues and attractions, like the British Airways i360 and the world's oldest operating aquarium, Sea Life Brighton.
6. SUNCREAM. SUNCREAM
"We'll be fine" I thought. "The forecast said light cloud" I thought. Word for the wise - stuff some suncream in your day bag anyway. The best place to watch the Brighton Pride parade pass by is on the seafront, where there is next to no shade at all. You'll be having too much fun to think about it, and will burn if you don't prepare.
In fact, as I type this, I am sporting a particularly sore camera strap sunburn around my neck, which was easily avoidable. D'oh!
7. LOUD AND PROUD
LGBT Pride parades have a bit of everything and trust me - they aren't for the quiet, conservative type. Brighton Pride Parade 2017 featured everything from the oldest gay in Brighton (adorable), to huge and colourful carnival costumes (unforgettable), to people in nothing but rainbow underwear and stilettos.
Brighton Pride is 99% family-friendly, but just accept that you're going to see some things that will surprise you. It's part of the fun!
8. WEAR COMFY SHOES
Wear some comfy shoes, because there is a LOT of walking to be done at Brighton Pride. Combined with standing to watch the parade, you'll be spending a lot of time on your feet across the day. I went in flip-flops, and won't be making that mistake again.
Many attendees - who were braver than I - wore heels, and I'm not sure how they would have survived the day. Brighton is set on a hill, and from the start of the parade to the main festival ground is at least a 35 minute walk. We all love to show off, but do yourself a favour, and dress your feet for comfort!
9. EVERYWHERE IS BOOKED. EVERYWHERE.
I made the last-minute decision to explore staying overnight in Brighton, to make the return journey easier. However, I quickly discovered that everywhere in Brighton is booked up an incredibly long time in advance, and there is a noticeable price hike around this weekend.
Here's a cheat code - stay at an airport hotel at Gatwick. Many come with parking, and on the Gatwick Express, it's only 25 minutes to central Brighton. The last train isn't until 01:30, so there's loads of time to party.
10. COCKTAILS. COCKTAILS.
I'm a beer drinker at heart. A lager on tap is simple. Comforting. Easy. But at an event like this, you know what's better than a beer? COCKTAILS.
They're tastier, they're stronger, and they don't make you as bloated as a pint does. There are hundreds of kinds. Some have little flags, some have little umbrellas. There are cocktails to try all over the town, each more delicious and refreshing than the last. Beer drinkers, throw aside your habits and dive into Pride with the biggest, strongest, most colourful cocktail you can find. Just remember to have a glass of water with every round.
11. EATING ISN'T CHEATING - FOOD AT BRIGHTON PRIDE
Partying on an empty stomach just isn't smart. Luckily, for every tasty beverage here, there's a delicious lunch option. If you're wondering where to eat in Brighton, the city has a huge variety of fantastic cafés and restaurants. There are loads of pop-ups inside the official pride grounds, too. The Pride Community Stage is a great place to grab locally sourced grub, and the Pride Festival ground is covered in street food stalls.
A picnic is fine if you're on a budget, but once you smell the street food? I can guarantee you'll be jealous.
12. DOWNLOAD 'AROUND ME'
This handy little app is a staple for me whenever I'm in a new city. This was my first visit to Brighton, and the crowds celebrating LGBT Pride can be pretty distracting. Around Me is an app that helps you find the nearest amenities, and came in hugely useful for finding the nearest ATM, the nearest coffee shop and the nearest toilet.
13. IT'S THE PEOPLE THAT MAKE BRIGHTON PRIDE
Strangers will talk to you. Some will be friendly, some will be fascinating. You'll also see some incredibly entertaining people during the parade. The large crowds and the camaraderie that comes with such an event truly creates an amazing atmosphere of openness and friendliness that I've felt in few other places.
Make some new friends, enjoy your time at Brighton Pride and don't be afraid to join in with the fun.
14. REMEMBER WHY WE'RE HERE.
It's very easy to get lost in the party atmosphere and forget how essential these Pride events have been to LGBT progression. It took hard work to bring society to the level of acceptance we find ourselves at today. Celebrate, show your support and have fun!
For more articles like this, check out our blog or be sure to follow us on Facebook and Twitter to stay up to date with the latest tips and guides. Plus, don't forget to subscribe to our YouTube channel.
Top