Faster and smarter in the app...
Open app
8 Best Travel Backpacks for 2016
The best travel backpacks for your next holiday.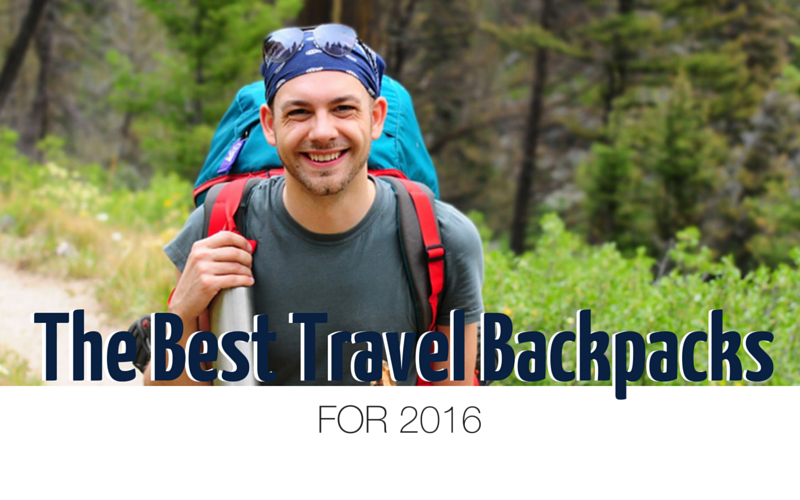 Suitcases are fine and dandy for fly-drives and single-resort holidays, but if you're moving around a lot - especially by public transport - then a backpack for travelling is a must. The best travel backpacks (as opposed to camping rucksacks) are designed with the needs and comfort of urban travellers in mind - look for features including easy-opening zips, padded hip support straps, breathable fabric panels and a safe pocket for your laptop or tablet if you plan to document your travels online (see our guide to the best cameras for holiday photography to make sure you have the best equipment for your holiday.) Here are our top picks for the best travel backpacks to suit your destination and travel style - don't forget to try before you buy to make sure it is a good fit and ensure it's the best bag for travelling!
Best Backpacks for City Travellers
If you're city-hopping and likely to be able to find mod-cons and creature comforts wherever you lay your head, you'll be able to travel relatively light. A 40-50 litre backpack should cover your needs and fit easily onto public transport. (This is also a great backpack for commuting.)
The Aura is a travel backpack designed for women, with comfort and portability in mind. The padded shoulder straps, hip straps and front straps are all adjustable to make sure you find the best fit, and the pack comes in two sizes (small and medium) to suit your frame. The "AG" in the name stands for "Anti-Gravity", Osprey's suspension system which keeps the pack weight distributed evenly over your back and shoulders for comfortable city walking; and the ventilated back panel and hip belt will keep you cool on hot city days. There are handy zip pockets in the hip belt for your phone and other essentials, and a detachable raincover to stop your stuff getting soggy on drizzly days. RRP £170
Men may prefer the fit of the Osprey Atmos AG 50 which uses the same lightweight suspension system and comes in two men's sizes. RRP £170
Thanks to a clever system of internal storage, the Redwing holds more luggage than you might imagine given its compact 44-litre size. A U-shaped zip provides easy access to the main compartment, but you can also pop the top open to grab a jumper without unzipping everything else. An internal sleeve pocket is useful for carrying a laptop and travel documents, and the mesh back panel, shoulder and hip straps should keep you dry and comfortable even in the hot city streets. The Redwing also comes in a 40-litre version designed for women: RRP £80
Best Backpacks for Worldwide Travel
If your travel plans are taking you off the beaten path - perhaps to areas with fewer amenities, or where you need clothing and equipment for all kinds of weather - then you'll need a 60-70 litre backpack to carry your stuff.
If your travels are taking you through a hot or humid zone, you'll want a travel backpack with good moisture wicking. The Aircontact - remodelled for 2016 in a slimmer fit - features an innovative pump system that circulates air through the pack's breathable padding to keep you cool and comfortable, even on a crowded Peruvian bus. There are lighter backpacks in the world, but the Aircontact's adjustable back panel, flexible shoulder straps and cushioned hip fins provide superior comfort and fit - making it one of the best tarveling backpacks in the market. RRP: £175
Looking for a light, slimline backpack? The Aether is one of the lighter packs on the market while still offering good comfort and suspension. Osprey's trademarked StraightJacket™ compression system means the pack is evenly compressed all over to leave you with a neat, super-portable bundle. The top section can be removed and used as a belt bag for day trips; the Aether also twins up nicely with the 13L Daylite daypack (see below) if you need more storage. For heavier packers, the Aether also comes in a 70-litre version - a great round the world trip backpack. RRP £170
The Baltoro is a sturdy backpack that makes light work of heavier loads. If you're going to be lugging a fair bit of stuff, you'll welcome the Baltoro's custom lower-back support and comfortable foam straps. Relaunched in 2015 with a lighter design, the award-winning Baltoro includes a handy "Sidekick" daypack, well-organised zip pockets and an integrated raincover. RRP £180
Best Backpacks for Daytrips and Excursions
Whether you're Interrailing over the English channel or heading right around the world, you don't want to carry all your worldly belongings out with you every time you leave the hostel. A 10-20 litre daypack is useful for taking a few essentials out with you on daytime excursions.
The Daylite is an ideal lightweight day backpack with inner and outer pockets to keep all your day trip essentials organised, including a laptop sleeve, a side pocket for your water bottle and a secure front pocket for valuables. Light and compact, the Daylite fits onto the Aether backpack (or the Ariel ladies' pack) with a neat hook and strap system; it's also small enough to be easily stashed inside any similar-sized backpack. RRP £35
A practical, durable, no-frills daypack, the Twentyfourseven has a breathable back panel for comfort while you're sightseeing even on sticky days, side pockets for your water and suncream and a useful zip pocket inside. A good all-round choice for travel and everyday use, the Twentyfourseven also comes in a compact 15-litre version and a roomier 30 litre size. RRP £30
If you're heading off on a backpacking tour, don't forget to pick up a suitable backpacker travel insurance policy before you leave. A specialist backpacking policy covers extended trips and multiple countries (perfect for round-the-world travel), as well as adventure sporting activities abroad. Whether you're heading round the world or travelling closer to home, our backpacker insurance covering medical costs, flight cancellations and loss or theft from your belongings will provide you peace of mind as you go. Happy packing!
If you found this post on the best travel backpacks helpful, you may want to read more of our Before You Go articles. Also check out our travel blog for additional inspiration and travel tips to make your holidays hassle-free!
If you enjoyed this post like us on Facebook and follow us on Twitter or subscribe to our YouTube channel.
Written by Lise Smith, a former contributor to Lonely Planet's India guidebook - she's seen her fair share of hotel rooms (both grotty and glamorous!). She learned to walk in a hotel corridor in Tunisia, and at the age of three had been on more aeroplanes than buses. Lise writes for a number of local news, technology and arts publications.
Top