With SACP Meet and Greet parking there's no need to worry about hunting down a space or hopping on a busy transfers bus. One of SACP team will take care of all the parking for you allowing you to walk to the terminal in just 30 seconds. Southend airport parking doesn't get much smoother than that! While you're away your car will be in good hands, secured by features like around the clock CCTV and fencing.
Save
£18

on SACP Meet and Greet with our Winter Offer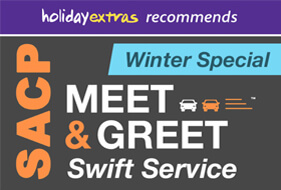 Seeking some Winter sun? Enjoy £18 off SACP Meet and Greet parking with our exclusive Winter Offer.
How to book:
Enter your dates, hit 'Search' and our 'Winter Offer' package will be clearly shown if it's available. Simply click 'Book Now' to continue.
The closest parking to the terminal, everything is done for you with SACP.
Covid-secure
The SACP team have introduced a whole host of measures designed to make your journey as safe and contact-free as possible.
All of the parking team have temperature checks before they start each day and will be wearing PPE (masks and gloves). Handing your keys over is completely contact-free as you leave your keys in your car for your driver to collect.
Before you get back the main touch points in your car and your keys will be disinfected making the whole journey as streamline as possible.
Need to know
Call the car park when you're about 15 minutes from the airport. When you get to the terminal drop your car off at the Short Stay car park. A member of the team will meet you there and park your car while you walk to the terminal.
When you get back give the driver a call to let them know you're ready and your car will be returned to where you were met on arrival.
Accessibility
This service is suitable for customers with limited mobility, as a shuttle bus is not required.
Security
The car park is secured by:
'Park Mark' awarded
Fencing
CCTV
Manned 24 hours a day
The small print
Government regulations require passengers at the airport to wear a face mask. Remember to bring a face mask and have it on before you get there. You'll need one for each member of your party.
This service isn't available before 3.30am. The car park operates until the last flight has landed.
Early or late? The car park offers a grace period of up to midnight on the date you have booked to collect your car. If you go into the next day you will be charged the standard rate of £10 per day. Please note this is subject to change.
You'll have 10 minutes to exit the car park before being charged, so make sure you're ready to leave before you call.
Most standard cars (without trailers/not commercial vehicles) will be accepted at the car park as long as they fit in a standard-size parking bay (2.4m x 4.8m).
The car park cannot accept vehicles with 8 or more seats. If you're bringing a long wheel based vehicle you'll be required to pay an additional supplement on arrival at the car park. The supplement will equal half of the total cost of the booking.
Help us go green!There's no need to print out your booking confirmation, just show it on your mobile device.
Getting to and from Southend airport
Arriving at the airport
Drive to the Short Stay car park. The driver will take a photo and check your car over for damage. You'll need to give them your booking confirmation and car keys, as well as your return flight information.
From there, it's just a short walk to the terminal while a professional driver parks your car for you in a secured car park.
Returning to the airport
Once you've collected your luggage, call the car park to request the driver to meet you with the car. You'll be given instructions on where to meet your driver.
At their discretion, SACP will give you up until midnight on the date you have booked to collect your car. If you go into the next day you will be charged £10 per day.
* Prices quoted are based on parking from the 14-12-2021 untill the 21-12-2021, valid as of 14-10-2021
Top