Faster and smarter in the app...
Open app
Facial recognition at Manchester Airport
Manchester Airport has begun trialling new facial recognition software in an aim to improve security and reduce passenger congestion.
The new system can be used by adult biometric passport holders from the UK and around Europe, and woks by scanning the faces of the passengers and comparing them to the photographs that are digitally stored on their passports.
As part of the government's e-Borders programme, ministers believe that the facial recognition technology will aid the identification of criminals and terrorists attempting to enter the country illegally. At present, more than 45 million people throughout Europe have been issued a biometric passport which holds images and biological information on a microchip.
The trial will enable users to pass through unmanned gates that scans whether their passport has been tampered with before they are allowed on to the next gate. Here, travellers will then use a facial recognition scanner to read their face for clearance or be redirected to immigration officers for further checks.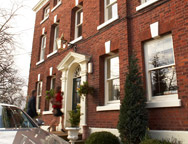 Should the trials be successful, the system will be introduced at Stansted in September before being extended to all UK airports.
Travellers flying from Manchester Airport can take advantage of great value hotel accommodation before their flight, with hotels including the 4-star Manchester Etrop Grange Hotel available.
Room at the Manchester Etrop Grange Hotel with up to eight days holiday parking from £125*
*Please note: This price is correct for bookings searched on August 19, 2008. Prices are subject to change. Book the Manchester Etrop Grange Hotel in advance to get the best price and availability.