What are the Best LGBT-Friendly Destinations Around the World?
Out and About - Exploring the World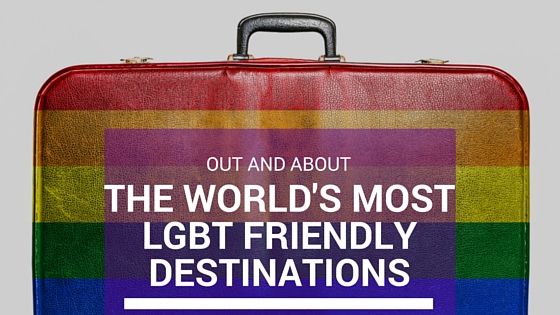 Wanderlusters looking for LGBT-friendly destinations rejoice!
The world of LGBT-friendly travel is widening. Nowadays, whether you're looking for a romantic rendezvous, fun trips with friends or even heavenly honeymoon destinations, the choices on offer are now better than ever!
To help you decide where to go on your next LGBT holiday, here's our list of the top 10 LGBT-friendly destinations:
1. San Francisco
Why visit San Francisco?
San Francisco is one of the United States' most progressive cities, with a rich history of gay rights activism and is often considered to be the gay capital of America, making it a brilliant LGBT-friendly destination. LGBT travellers will definitely find a welcoming atmosphere in this North Californian city.
What is there to do in San Francisco?
If one thing's for certain, LGBT travellers won't be bored in San Francisco. You'll be spoilt for choice, with cultural activities and entertainment specifically tailored for an LGBT audience.
We recommend visiting the Castro District near the centre of the city, where you'll find more sing-along night and queer-led cinema than you can swing a designer shoe at! Alternatively, simply relax and take in the serene beauty of the famous Bay Area.
San Francisco's Pride Celebration & Parade takes place in June, so visit then to enjoy one of the world's largest (and best) Pride celebrations.
2. Copenhagen
Why visit Copenhagen?
Copenhagen has a lot to offer for the LGBT European jetsetter. The cosy Nordic nation has long enjoyed a reputation for tolerant social attitudes, and in fact was the first country to legalise same-sex civil partnerships back in 1989 (marriage rights followed in 2012).
What is there to do in Copenhagen?
The Danish capital is renowned for its fine dining, beautiful waterfront and colourful architecture, all of which has been enjoyed by all for centuries. It's also well worth visiting Centralhjornet , Europe's oldest gay bar and a fixture of the Copenhagen scene for over sixty years.
Copenhagen celebrates Pride each year in August.
3. Sydney
Why visit Sydney?
For years, Sydney has had a reputation of being a friendly and open-minded cosmopolitan city, and is often the first destination for any LGBT traveller exploring the South Pacific.
What is there to do in Sydney?
Sydney's LGBT scene can be found in downtown Oxford Street, but you'll find gay-friendly clubs, bars and community events all over the city. What's more, the city's beautiful harbour and adjoining opera house provide a relaxing, even romantic setting if you're travelling with your partner (or indeed hoping to meet a new one).
Sydney's famous Gay and Lesbian Mardi Gras takes place annually, usually around late February/early March.
4. Toronto
Why visit Toronto?
Canada has some of the most progressive laws on LGBT rights in the world and you can expect a progressive, accepting attitude throughout the country. This includes it's biggest city - Toronto.
Oh, and maple syrup, did we mention maple syrup?
What is there to do in Toronto?
Toronto is home to a lively LGBT scene centred around the Church and Wellesley district in the south of the city. But much like Sydney, you can expect to find a warm welcome throughout the city, with enough LGBT-friendly shops, bars and businesses to feel right at home!
5. Berlin
Why visit Berlin?
Did someone say leather?
No European city does sexy quite so loudly, proudly and decadently as the German capital of Berlin. Schöneberg, in the south-west of the city, has long been the centre of LGBT life and culture; today it's notable for its leather scene. Ooh err...
What is there to do in Berlin?
It's no exaggeration when people say Berlin certainly does have something for everyone. For a truly 'authentic' experience, head to Berghain, where you can enjoy all the hard dance and hedonism you can handle. For a slightly less intense night, Schwuz is popular with fans of all things pop.
Once the party's finished, Berlin still has plenty to offer. During daylight hours, you can explore fascinating museums, quirky vintage clothing stores, hip cocktail bars and much much more.
Berlin Pride takes place in the second half of July and has been held annually since 1979.
6. Mykonos
Why visit Mykonos?
Sun, sea and Mediterranean island charm, need I say more?
Oh, ok...
Mykonos became the holiday destination to the stars thanks to a slew of famous guests including Grace Kelly, Marlon Brando and Elizabeth Taylor. Nowadays, with its out-and-proud tradition of gay bars, gay beaches and gay-friendly hotels, the island has the reputation for being the European haven for LGBT travellers.
What is there to do in Mykonos?
With a wide array of accommodation, ranging from cheap and cheerful budget choices to chic boutique hotels, there's a place for everyone on Mykonos. You'll also find an assortment of local businesses, selling their unique produce. Bag yourself a keepsake for life, and help support the Greek economy - win win!
Looking for another European beach option? Try Sitges in Spain.
7. Reykjavik
Why visit Reykjavik?
Like Copenhagen above, the Icelandic capital of Reykjavik is as relaxed as it is hard to spell! LGBT travellers can expect famous Scandinavian hospitality, and an awe inspiring setting of imposing volcanoes and raging waterfalls.
What is there to do in Reykjavik?
Aside from the unique natural beauty, visitors to Reykjavik can enjoy friendly local restaurants, get swept up in the excitement of Handball (trust us, it's gripping stuff) or simply enjoy the inspiring street art that decorates the city.
LGBT travellers will be hard pressed to miss the city's top gay bar, Kiki Queer Bar; but note that its flamboyant exterior is normally accompanied by a long queue to get in, so arrive early!
Reykjavik Pride takes place every August, and attracts tourists from far and wide.
8. Kathmandu
Why visit Kathmandu?
Located just South of the Himalayan mountains, Kathmandu is truly a backpackers paradise. Same-sex marriage is currently in the process of becoming legal, and Nepal recently become the 8th country to officially recognise a third gender. Although LGBT rights are a relatively recent development, the county is keen to promote itself as an LGBT-friendly destination.
What is there to do in Kathmandu?
Anyone who travels to Nepal's capital has to take a trip to the nearby Himalayan foothills to admire the breathtaking sights of the world's tallest mountain range. If you're feeling especially adventurous, trek a little further to get up close and personal with Mount Everest!
In the city itself, you can enjoy the phenomenal local cuisine and explore the wonders of its Hindu and Buddhist religious sites. A delight for the senses you won't want to miss.
9. Brighton
Why visit Brighton?
Phew! Our tour around the world leads back to more familiar shores, with the seaside town of Brighton.
Just an hour or so out of London, Brighton is often consider the LGBT capital of Britain, with a friendly, progressive vibe throughout the town. A perfect LGBT-friendly destination if you're looking for a staycation this year.
What is there to do in Brighton?
Aside from its famous pier (where you can fritter away loose change in classic arcade machines), Brighton is littered with fantastic restaurants, independent boutique shops and art galleries. Head to the North Lanes for the best local food, craft and produce.
There's also no shortage of LGBT-friendly bars and clubs in Brighton, and the annual Pride parade is considered the country's biggest. The event attracts some of the biggest performers from around the world, such as the Pet Shop Boys, Carly Rae Jepsen and Paloma Faith. Just be aware that Brighton Pride is a ticketed event, so beat the queues and buy your tickets online ahead of time.
Our Jake will be hitting the south coast later this year to give you the full lowdown on Brighton Pride.
Can't wait for that? Read our Fabulously Essential Guide to Gay Pride, written by Dan from the Travel Guides.
Before you travel, we recommend taking a look at the UK Home Office guide for LGBT travellers, and take local advice on potential dangers and annoyances. A growing number of countries worldwide have anti-discrimination laws that can help keep you safe, but check the legal position - and the local customs - before you travel to ensure a happy holiday. Take care and have fun!
Want to party around the world? Take a look at the top places to celebrate LGBT Pride around the world
Travelling in style costs less than you might think! Travel better with Holiday Extras and find out how you can book an airport lounge from as little as £15.
If you enjoyed this post like us on Facebook and follow us on Twitter and Instagram or subscribe to our Youtube channel.
Top