Am I guaranteed to be able to sit with my child?
By Jonathan Vickery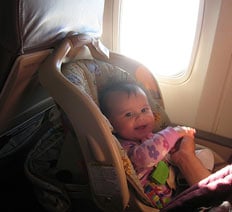 If you're travelling with a baby, you may want to pre-book your seats on the plane to guarantee your space.
Many airlines will allow you to pre-book a seat during the booking process - though there may be an extra charge for this.
Pre-booking with many airlines can be limited to frequent flyers. The airline will be able to tell you if you are eligible to pre-book. Often the fact that you are travelling with a baby will allow you to pre-book, so it is best to mention this when making any enquiries.
If you are travelling with your baby then bulk head seats often offer space for a cot for your baby.
See if your airline is one of the best for travelling with a baby.
Remember to book your airport parking, airport hotels and airport lounges with HolidayExtras.com.