Faster and smarter in the app...
Open app
What should I pack for my baby?
By Kathryn Crawford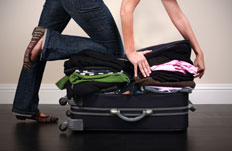 Every baby has his or her demands, but generally there are certain items that are essential when it comes to packing.
Many of these items would be on any person's travel packing list, but some items are particularly important when holidaying with your baby:
Camera. Babies grow up so fast. Capture those special moments forever by making sure you always have your camera with you. Make sure that you also have plenty of film or a high capacity memory card.
Plastic bags. Wherever you go with your little one, there'll be mess of some sort, so make sure you have a supply of plastic bags for dirty clothes, used wet wipes, dirty bibs, etc.
Spare t-shirt for yourself. The chances of you making the complete journey without some sort of spillage are slim, so be prepared.
Muslin cloths. These can be your saviour and are so easy to wash and dry afterwards.
A plug-in nightlight. Once on holiday, the unfamiliar environment can make your baby uneasy. Having a low power nightlight on can be reassuring.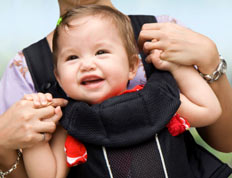 Baby toiletries. Many hotels provide toiletries in the rooms, but most of them are not suitable for a baby's skin. Make sure you take shampoos, baby-baths and lotions that you know are good for your baby.
Pushchair/stroller. Think lightweight. The last thing you need when travelling is to be manhandling a heavy pushchair. There are many inexpensive and extremely lightweight strollers available, suitable for babies of all ages. Ensure you have a parasol that can be attached to protect your baby from the sun.
Sun cream. Use the highest SPF you can on your baby. Most supermarkets and pharmacies now sell sun creams specifically for young children that change colour soon after applying. This ensures you don't miss any areas when applying.
Hats. A good sun hat not only protects your baby's head, but helps keep him cool and also keeps the sun out of his eyes.
Toys. Always take your baby's favourite toys and comforter. They can entertain, reassure and comfort your child in an unfamiliar environment.
Kathryn Crawford is the editor of leading pregnancy, baby and parenting website, www.thebabywebsite.com.
Copyright © www.thebabywebsite.com Ltd 2010
Remember to book your airport parking, airport hotels and airport lounges with HolidayExtras.com.