Faster and smarter in the app...
Open app
How easy is it to get hold of baby supplies?
By Michael Johnson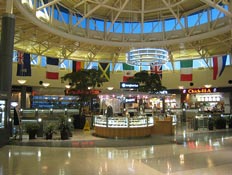 Travellers with babies will find the on-site branches of Boots perfect for their needs, with outlets before and after security.
You will even find an on-site Hamleys toy store, meaning that you can can purchase toys to keep your little one entertained in the the departure lounge and during your flight. WHSmith Books also provides a wide range of children's literature that can help your journey run smoothly.
Travellers looking to buy last-minute baby supplies - be it nappies, wet wipes or baby food - will find the on-site Boots perfect for their needs.
So, if you suddenly find yourself without a sufficient supply of nappies, are running low on formula milk, or simply need some wipes to counter any potential accidents while flying, you can put your mind at ease knowing all your demands can be met during your time at Gatwick airport.
What other facilities are on site at Gatwick airport? Take a look at our airport facilities guide for details.
Remember to book your airport parking, airport hotels and airport lounges with HolidayExtras.com.