Faster and smarter in the app...
Open app
What travel documents do I need for my baby?
By Jon Vickery
Before going on holiday with your baby, it's important to have the right documents, otherwise you may not be able to travel.
The sun is shining outside the terminal and you've collected all your luggage. Now it's just a question of getting from the airport to your resort, lying back and soaking up the sun.
The first item you need will be a current passport for your baby. Since 1998, every child, including babies, needs to have their own individual passport. The only exceptions to this rule are children already included on a still-valid adult passport. This will be acceptable until the adult passport is due for renewal, after which time a separate passport will be required.
Following reforms introduced in 1998, every child, no matter their age, needs to have their own individual passport.
How can I apply for a new passport for myself or baby?
There are three ways you can do this: your local Post Office will have all the necessary forms and give advice about how to complete them; you can apply online at the Directgov website; or you can apply for a passport over the telephone by calling the Identity and Passport Service (IPS) on 0300 222 0000. They will post you the necessary forms which should be returned after being countersigned by somebody who has known you for at least two years. It is advisable to return these documents by special delivery to ensure they are safe and secure.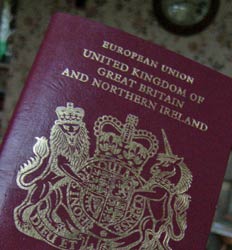 What documents are needed when I apply for a passport for my baby?
When applying for a passport for your baby, you will need to complete the passport application form and include a copy of your baby's birth certificate. Two photos will also need to be included and signed on the reverse by a professional person who has known you for a minimum of two years. You will also need this person to sign the passport application form.
The passport photograph must be professionally printed with dimensions of 45mm in height and 35mm in width.
Important passport photo information
The passport photograph must be professionally printed with dimensions of 45mm in height and 35mm in width. Any photograph must be taken in front of a white, light grey or cream coloured background. This ensures that the features of your baby can be easily distinguished. Your baby's photograph should feature no toys, dummies or parents, its entire face must be visible, and any baby over the age of six months must have their eyes open. Please try to have your baby look direct at the camera with their eyes open and mouth closed, as not doing this could lead to the photograph being rejected. Exceptions can be made for young children, but it will save any potential problems if you try to meet these criteria.
Other required documents
Depending on the country you are visiting, your baby may need a visa. It is important to check before you travel, and your travel agent or holiday company will be able to advise you of any specific requirements.
Make sure you leave plenty of time between the application for your passport and visa and going on holiday in case of complications. Allowing yourself the luxury of time to sort out any potential problems will make the whole experience more relaxing and enjoyable.
Remember to book your airport parking, airport hotels and airport lounges with HolidayExtras.com.