Faster and smarter in the app...
Open app
Travelling with a baby
Travelling with a baby can be a stressful time when, above anything else, you just want things to go smoothly.
But how can you ensure your worries are pacified and the start to your holiday is completely hassle-free? Our guide to travelling with a baby is the perfect solution.
"Travelling with a baby should be no more stressful than travelling alone or as a couple."
We know that a holiday is much more than spending time in your resort, and that travelling with a baby should be no more stressful than travelling alone or as a couple. The secret to a hassle-free, relaxing holiday lies in the preparation. We've been helping people prepare for 30 years, working hard to offer solutions to the problems family travellers may face when heading overseas.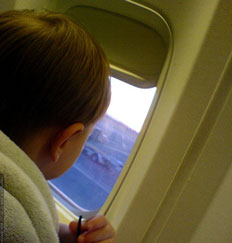 We provide guides on what you can carry on board aircraft, a solution to how best to get to the airport, and a huge range of airport hotels for families that offer free cots for babies during your stay.
Take a look through our must-read guides and learn everything you need to know about travelling with a baby. We have divided the guide into easy to navigate sections: before you travel, getting to the airport, at the airport, in the air and upon arrival, each of which answers many questions associated with travelling with a baby. We also provide an overview of the range of products available through HolidayExtras.com that ensure you and your family get your holiday off to the perfect start.
If you think we've missed something, then you can leave tips and advice of your own, helping other travellers enjoy a hassle-free journey.
Children's travel insurance
Your newborn baby can be added to your holiday insurance policy for an additional premium, unless you've already left the UK. Whether you've purchased an annual travel insurance policy or have a single trip policy ready for an upcoming holiday, you can contact us to speak to one of our friendly UK call centre team.
You can also visit our children's travel insurance page for information regarding for under 18's travelling with an adult and children travelling alone.
Remember to book your airport parking, airport hotels and airport lounges with Holiday Extras.
Top