Faster and smarter in the app...
Open app
Can I take my baby into an airport lounge?
By Michael Johnson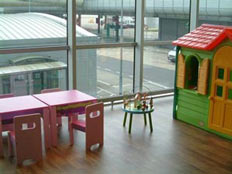 Yes. And for those looking to escape the bustle of Gatwick airport, an airport lounge will be the perfect option.
At London Gatwick, there are three airport lounges that can accommodate you and your baby.
The Gatwick Wentworth Servisair Lounge, located in the North Terminal, is perfect for travellers with children, offering a fun zone for keeping young children entertained as well as offering a peaceful, relaxing ambience away from the crowds.
For those looking to escape the bustle of Gatwick airport, booking an airport lounge will prove to be the perfect option.
For travellers from the South Terminal, there is the choice of the Gatwick Lingfield Servisair Lounge and the Gatwick No1 Lounge. Both provide a wide selection of amenities that cater for children and parents alike, including child-friendly fun zones and complimentary refreshments.
Heading overseas with a baby can prove a stressful time, so booking yourself in to an airport lounge for some rest and relaxation before your flight will help get your holiday off to the perfect start. Remember, we take the hassle, you take the holiday.
For further details on airport lounges at Gatwick, take a look at our dedicated airport lounge page.
Remember to book your airport parking, airport hotels and airport lounges with HolidayExtras.com.