Faster and smarter in the app...
Open app
What sun protection is best for babies?
By Jonathan Clarke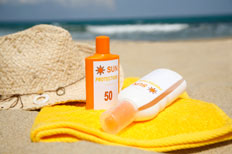 The best advice is to keep young babies out of the strong sun. But that can be easier said than done.
You're on holiday and you're bound to want to get out and about.
However, there are some simple steps you can take to make sure your baby doesn't burn in the heat and to minimise the risk.
A car is undoubtedly the easiest way to get around with a baby. Chances are you'll be able to use your own car seat and driving around should be just as easy as back home. Taking a baby on a bus or a train can be much more difficult and stressful in comparison.
As Dr Laurence Gerlis of samedaydoctor.com advises: "Cover up, not just with cream but with clothes: hats with neck flaps and swimming suits which cover the whole chest and back area. It really is important for babies to be well protected from the sun as they burn very easily."
A good choice in sun lotion is vital. You'll need a sun lotion that doesn't irritate your baby's skin but one that also provides enough protection. Here are some key tips:
Use a lotion with a sun protection factor of at least 15
Use a broad spectrum sunscreen as this will protect against UVA and UVB rays
Choose a sun lotion with high zinc oxide or titanium oxide content for additional protection
Choose a water resistant sunscreen
Try to apply the sun cream at least 30 minutes before you head outside
Avoid applying sun lotion near your baby's eyes as it could be rubbed in and irritate
Re-apply every two hours
Adult sun lotion works just as well on your baby
Try to avoid being out in the sun between 11am and 3pm
Concerned about your baby becoming ill while on holiday? Following our guide for tips and advice during your holiday.
Remember to book your airport parking, airport hotels and airport lounges with HolidayExtras.com.