Faster and smarter in the app...
Open app
What's the easiest way to get around on holiday?
By Jonathan Clarke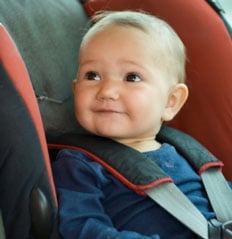 The great thing about hiring a car is that you can really control your baby's surroundings and won't have to put up with stuffy public transport or long waiting times for buses.
A car is undoubtedly the easiest way to get around with a baby. Chances are you'll be able to use your own car seat and driving around should be just as easy as back home. Taking a baby on a bus or a train can be much more difficult and stressful in comparison.
However, that's not to say hiring a car is always straightforward. There's a few things you'll need to be aware of and a list you should always run through to make sure you're getting a good deal on your holiday car.
The great thing about hiring a car is that you can really control your baby's surroundings...
Here's a few handy tips:
Read your car hire contract thoroughly, making sure you study every point and don't miss a detail
Double-check the car for damage before you take it away. Make sure that even the slightest damage is noted before you leave. If you don't do this, you may be charged for damage you haven't caused
If you are charged for damage on the car, make sure you get proof as to how much the repairs have cost
Ensure the car you're given is the same one you've paid for
Check over all parts of the car, including spares. This could save you time later if you discover something that doesn't work
Make sure you clarify the type and amount of the excess charge on the hire car insurance
Understand how the operator expects you to pay for the fuel. The standard arrangement is to take a car with a full tank and return the car with a full tank
Where possible, try to rent from a reputable international car hire company. It'll mean the customer service is in English and you can be sure you'll get good customer service
Car hire can be booked via HolidayExtras.com with Car Trawler. A variety of types of car - from saloons to people carriers - can be reserved in a wide selection of international destinations.
Remember to book your airport parking, airport hotels and airport lounges with HolidayExtras.com.