Faster and smarter in the app...
Open app
Customer testimonials
By Jonathan Clarke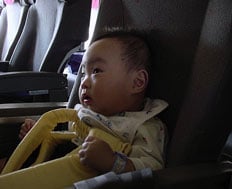 It's easy for us to say that an airport hotel takes a lot of the hassle out of travelling with a baby.
That said, we know it means a lot more when it comes from our customers. Here are a few things you've been saying about our airport hotels.
"The hotel was superb. We thoroughly enjoyed our stay, the family room was great with a separate sleeping area for the children and separate beds! No fighting!"
Mr Weir
"Being a single mum of two young children, the idea of booking a car park space and then finding a hotel was quite daunting. Your representative took it all out of my hands and made the trip a lot less trouble. Will most definitely be using you again."
Mrs Henderson
"Worked like clockwork. Public bus to pick up from hotel and car delivered to us at the airport. With a 10-month old baby in tow, it couldn't have been easier."
Mrs Lappin
"The Gatwick Moat House met our needs extremely well. They provided us with two travel cots, a great breakfast and I was even able to get milk for the baby from the bar."
Mrs Gallagher
Gatwick Best Western Moat House
"The Mercure Gatwick was an ideal place to stay with a family. Staff were friendly and helpful. It was great to have a separate curtained off area for the children to sleep in. Would definitely recommend and stay there again."
Mrs Payne
Remember to book your airport parking, airport hotels and airport lounges with HolidayExtras.com.