Birmingham airport parking for windsurfers
By Jonathan Clarke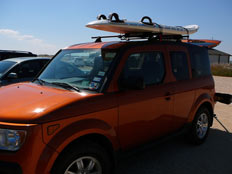 Our recommendation for windsurfers heading to Birmingham airport is to drive there.
Getting all that equipment on a train is a lot of hassle, while getting a lift with a friend even more so with the roofracks and extra space you'll need for all your gear.
With this in mind you'll need somewhere to park your car while you're away. We offer three types of airport parking at Birmingham airport: Meet and Greet, off-airport and on-airport.
With a lot of windsurfing equipment we'd urge you to try a Meet and Greet service. You'll be met at the terminal when you arrive, and one of our drivers will park your car for you at a secured location while you're away. It means that you can avoid the hassle of loading your gear onto a transfer bus once you've arrived a car park.
If you're hiring your windsurfing gear at your destination then off or on-airport parking might be more suited to you. On-airport parking means you'll be parked close to the terminals, while our off-airport car parks will require you to catch a transfer bus to the airport. Off-airport parking is, however, usually much cheaper than the other options.
For more details on parking at Birmingham for windsurfers, simply follow the links below:
Still not sure which car park to book? Let our customer reviews offer some guidance.
Remember to book your airport parking, airport hotel and airport lounge with HolidayExtras.com.