Faster and smarter in the app...
Open app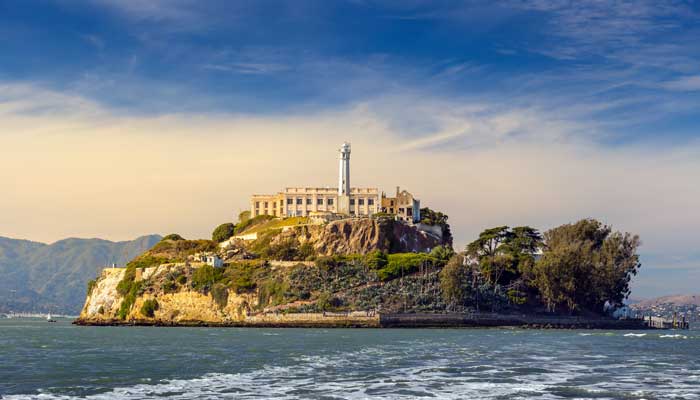 The 15 Best Sights in the World
---
Holidaymakers flock to these world landmarks in their thousands every year. Here's why, and what you need to know about 15 of the best sights in the world. How many have you been to?
---
Alcatraz, San Francisco, USA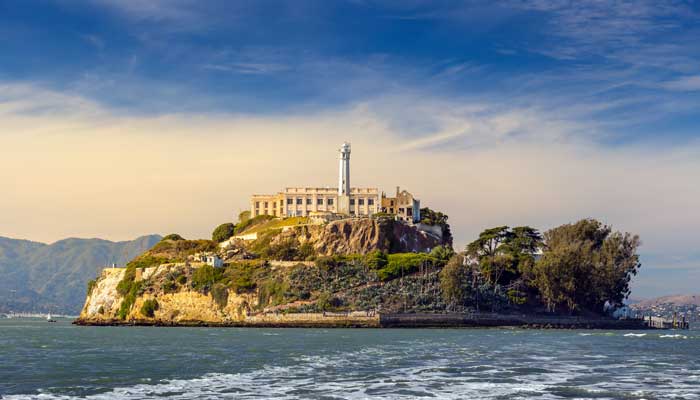 A small, isolated island in the chilly and hazardous waters of San Francisco Bay, Alcatraz became America's most famous prison. Beginning as a military prison in the 1860s, it was a federal penitentiary between 1933 and 1963, with Al Capone among the notorious residents. Visitors now can wander the abandoned and decidedly grim cells; lighthouse; early fortifications; and surprisingly beautiful natural environment. Be sure to opt for the self-guided audio tour, chillingly narrated by former inmates and prison guards.
California is also home to the Golden Gate Bridge, Hollywood, Yosemite National Park, and one of the world's best theme parks. If you are thinking about a trip to the 'Sunshine State', we have 7 reasons to visit California to help you decide.
Angkor Wat, Siem Reap Province, Cambodia
This breathtaking ancient temple complex and moat in Cambodia was crafted primarily from sandstone in the 12th century. The largest religious monument in the world, and one of the most highly regarded world landmarks, it was initially dedicated to the Hindu faith but gradually transferred to Buddhist worship. Angkor Wat has become a symbol of Cambodia and is a designated UNESCO World Heritage site.
Burj Khalifa, Dubai, UAE
Burj Khalifa is the current holder of the title of tallest building in the world. At 828 metres high in shining steel, aluminium and glass, it's a suitably blinging showpiece for downtown Dubai. The views of the Persian Gulf from the observation decks are pretty awesome too. Just be sure you book your Dubai travel insurance before you head up!
A ride to the top of Burj Khalifa is on our bucket list, is it on yours?
Eiffel Tower, Paris, France
The unforgettable iron emblem of the city of love, the Eiffel Tower is one of the world's most recognisable landmarks. Originally constructed as a temporary exhibit for the 1889 World's Fair, the 1,700 steps (or much less exhausting lift) have been climbed by more than a quarter of a million visitors. And counting!
After you get your Eiffel Tower workout, peruse the hidden gems of Paris followed by a day of shopping - Parisian style.
Ellis Island, New York, USA
For the nation built by immigration, Ellis Island is a very important landmark indeed. As the gateway for millions of immigrants landing in the new world between 1892 and 1954, under the gaze of Liberty herself, this island and the museum now housed here is a poignant and evocative history of American immigration.
Empire State Building, New York, USA
Featured in movies from King Kong to An Affair to Remember and Sleepless in Seattle, the iconic New York skyscraper symbolises the American dream for many. The Empire State Building went up in one incredible year, opened by President Hoover in 1931, and was the world's tallest building for almost 40 years. This stunning art deco tower reaches up out of the heart of Manhattan to give 360 degree views of the city day and night.
Great Wall of China, China
This world-famous landmark is made up of a network of stone, brick, earth and wood fortifications snaking from east to west across China's northern borders. Some walls date back to the 7th century, most of what remains now originates from the Ming Dynasty (14th to 17th century). Archaeologists calculate that the whole wall and its branches stretch for over 21,000km.
London Eye, London, UK
It may not be one of our capital's most historic sights, but the London Eye (created for the Millennium celebrations in 2000) offers a rare opportunity to peer at this amazing city with a 360 degree bird's eye view. Located on the iconic South Bank of the Thames opposite the Houses of Parliament, there are London landmarks every way you look.
Machu Picchu, Cuzco Region, Peru
A mysterious, ancient Incan city perched on the eastern slopes of the Andes in Peru, historians believe Machu Picchu was built during the 15th century as a sacred religious site. Visitors today can explore farming, residential, astronomical, ceremonial and religious zones and take in the awe-inspiring panoramic views from 2,430 metres above sea level.
The Moai Heads, Easter Island
Easter Island is a remote Chilean island in Polynesia in the southeastern Pacific Ocean, and home to many mysterious giant stone figures. Early Rapa Nui people crafted these over-sized heads on small bodies, largely from solidified volcanic ash, during the 10th to 16th centuries. It's thought that they were carved with the faces of their ancestors and important historical figures to watch over the island's inhabitants.
Red Square, Moscow, Russia
You'll certainly feel the might of Russian history as you stand in the country's most famous square. Home to many of its iconic buildings, from the Kremlin to St Basil's Cathedral, despite now being largely a venue for entertainment Red Square is still at the heart of Moscow's political and spiritual life.
St Peter's Basilica, Rome, Italy
As far as world landmarks go, it doesn't get much more impressive than one of the world's biggest and most impressive Renaissance churches, built above St Peter's tomb within the international centre of the Catholic faith, topped with a spectacular dome painted by Michelangelo himself. There's a fantastic view of Vatican City and Rome from the top too.
Sagrada Familia, Barcelona, Spain
Perhaps the most well-known of Antoni Gaudi's crazy modernist buildings, the Sagrada Familia in Barcelona showcases his distinctive architectural style inspired by natural forms and vivid colour. It's also a Roman Catholic church. Unbelievably, construction began in 1882 with Gaudi becoming involved in 1883; and it is not expected to be completed until 2026.
Sydney Opera House, Sydney, Australia
The classic symbol of sunny Sydney, Sydney Opera House was designed by an unknown Danish architect in 1957 for an international competition to create an Australian national opera house. Jorn Utzon was inspired by the sails of ships, horizontal platforms used in Mexican construction and the stunning backdrop of Sydney Harbour. The building continues to evolve within his design principles and is a World Heritage site.
Victoria Falls, Zimbabwe / Zambia, Africa
Probably the most spectacular waterfall on the planet, Victoria Falls on the Zambezi River is on the border between Zimbabwe and Zambia. Named Mosi-o-Tunya ('the smoke that thunders') by local tribes, the falls can be heard from 40km away and the spray can be seen from a distance of 50km. This beautiful natural sight was brought to international attention by Scottish explorer David Livingstone in the 19th century.
At Holiday Extras we're all about hassle-free travel - so we've read all the documents and done all the research so you don't have to.
Fri Mar 18 2022 13:56
Planning a holiday and need to know what covid tests you need - we have all the top destinations requirements.
Sun Feb 13 2022 23:46
All the latest travel news and changes.
Thu Jun 23 2022 12:24