Stansted airport parking for windsurfers
By Jonathan Clarke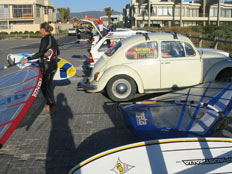 If you're flying out of Stansted with all your windsurfing gear then we thoroughly recommend driving to the airport and parking your car when you get there.
Trying to get all your gear on a train is going to be a lot of extra hassle you could do without before a holiday. Driving yourself is greener than getting a lift as you'll only need two journeys to the airport rather than the four needed for a friend or taxi to take you.
We can offer you two different kinds of airport parking at Stansted. We have Park and Ride options but our recommended choice for windsurfers is a Meet and Greet. It means you can drive straight to the terminal, unload your gear and then one of our drivers will take your car and park it for you.
A Park and Ride might be the best solution if you're planning on renting windsurfing gear when you arrive on holiday. You'll need to park your car yourself and catch the transfer bus over to the terminal, but it's a bit cheaper than a Meet and Greet so you'll have a little extra spending money to take with you.
For more detailed information on our parking at Stansted for windsurfers you can visit our dedicated pages below;
Stansted Official Valet Parking
Still not sure which car park to book? Let our customer reviews offer some guidance.
Remember to book your airport parking, airport hotel and airport lounge with HolidayExtras.com.