Faster and smarter in the app...
Open app
Where to Go on Holiday in July
Our picks for the best places to visit in July.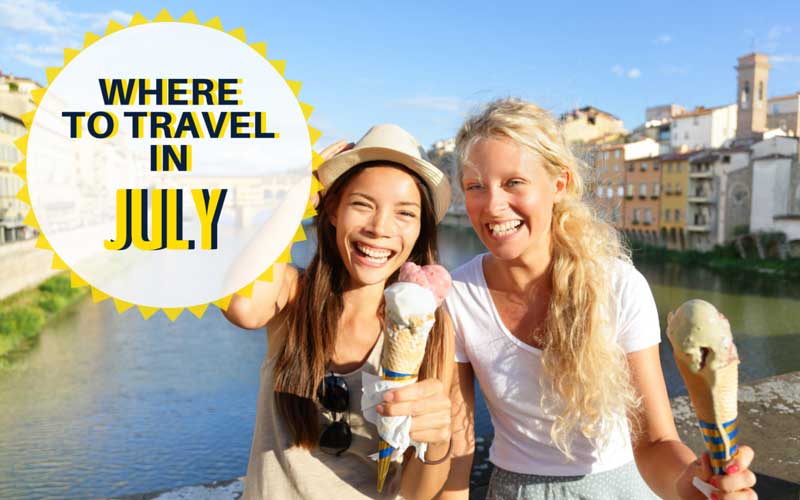 If you are wondering where to go on holiday in July, how better to celebrate the summer month than with a relaxing beach holiday? While the following holiday destinations have ideal weather during the month of July, you may also want to check out our guides on Europe's Best Beaches and Where to Travel in August for additional holiday ideas. Whether you're looking for a luxurious romantic getaway for two, a cheap and cheerful break with friends or a family holiday, we've got the sandiest holiday destinations in July.
The Five Best Places to Visit in July
1. Corsica, France
The famously beautiful island of Corsica officially belongs to France, is within waving distance of Italy, and has a rugged charm all of its own. The island is one of Europe's best places to visit in July - ringed with gorgeous beaches, the most popular being the soft, sandy beaches of Tamariccio, Palombaggia and Rondinara to the south, but there are plenty of unspoilt gems around the northern coast as well.
Elsewhere on Corsica you'll find plenty to do: many beaches offer windsurfing, kite-surfing and boating; there's hiking in the beautiful mountains and historic ruins to visit, and a clutch of Michelin-starred restaurants for gastronomes to get excited about with Fabio Bragagnolo's Restaurant Le Casadelmar in Porto Vecchio boasting two of the coveted stars.
An easy ferry trip will take you from one of Corsica's southern ports to Sardinia, should you fancy a day trip to Italy. But Corsica is a delightful place to visit on its own, and many travellers will be happy to stay relaxing on the golden sandy beaches and floating in the turquoise seas around this Mediterranean gem.
BEST FOR: foodies looking for a relaxing beach getaway with a fine-dining bonus.
2. Seychelles, Indian Ocean
Earth has very few July holiday destination that can compare: the 115 coral-ringed islands of the Seychelles archipelago are often described the closest thing to paradise that can be experienced in this lifetime. Warm, gin-clear waters lap pristine, white-sand beaches where you can swim or sunbathe entirely unbothered by other human beings, if that's what you wish for. The crystal blue waters teem with fish and other marine life, and a snorkelling or scuba-diving excursion here is likely to be one of the most memorable July holidays you could make.
Even on the more popular islands of Mahé, Praslin and La Digue you'll be able to find pleasantly secluded coves and bays; and if you really want to get away from it all, a flying boat will take you (for a price) to some of the more remote islands where you can enjoy an abundance of wildlife and rare birdlife, or simply relish the opportunity to do whatever you like on your own personal beach.
The Seychelles are a popular honeymoon destination, and luxury options are available if you're treating yourself to a special getaway. But if your means are a little more modest, self-catering and guesthouse options bring this earthly paradise within the financial reach of most mortals. Easily one of the world's best places to go on holiday in July.
BEST FOR: anyone looking for a truly unforgettable getaway.
3. Cayo Coco, Cuba
Surrounded by one of the largest and most biodiverse coral reefs in the world, the island of Cayo Coco lies just off the north-east coast of Cuba and is known for its pristine white beaches, crystal clear waters and tropical wildlife. Pelicans, pink flamingos, herons and the white ibis or coco bird from which the island takes its name throng through the skies, and the gentle Atlantic waters are home to dolphins, turtles, and hundreds of species of fish.
If your idea of a perfect July holiday revolves around lounging on the beach then Cayo Coco has some of the loveliest in the world. Twenty kilometres of soft, sugar-white sand stretches over the island's northern coast, with the sun rising gorgeously from the waters at dawn should you wish to head out for an early morning salutation. Active holidaymakers will enjoy swimming, diving and snorkelling in the warm and clear waters, or those who come on holiday to take it easy will find plenty of opportunity to relax with a rum cocktail at a beach bar or enjoy a luxurious spa treatment at one of the island's many resort hotels.
BEST FOR: sun worshippers and scuba divers.
4. Mallorca, Spain
Perennial favourite Mallorca is enjoying something of a renaissance, with independent travellers giving the concrete tourist resorts a swerve and instead heading for country villas and friendly farmhouses in the island's picturesque villages. Mallorca's famously lovely landscapes - dramatic chalk cliffs, windswept pines and that sublime Mediterranean light - have inspired painters and photographers through the ages, and the island's string of pearl-like coves and beaches make a wonderful setting for a family holiday or romantic getaway for two. Families will enjoy the spotless sandy beaches of the northern coast, while the most stunning views are found on the west coast.
As well as offering all the traditional beach pursuits the pretty coastline affords, Mallorca is a cyclist's dream. Mountain bikers will enjoy a week or two riding in the Serra de Tramuntana on the west side of the island; those looking for a gentler ride will find plenty in the central plains. Mallorcan cuisine has also recently upped its game, and there are now seven Michelin-starred restaurants on the island and plenty of less pricey but still delicious options. If you are still looking for where to go in July, Mallorca is a tough contender. For more ideas, read our guide on things to do in Mallorca.
BEST FOR: lovely landscapes and lazy days with local wines.
5. Maui, Hawaii, USA
If you don't mind flying long-haul (check out our tips for long haul flights), the heavenly Pacific islands of Hawaii make a solid day's sir travel well worthwhile. Maui is the second-largest of Hawaii's eight islands, and boasts some of the archipelago's most beautiful beaches; it's also home to the otherworldly volcanic landscapes, and the sunrise view from Haleakala Crater is absolutely spectacular.
With its clean, clear waters and year-round warm weather, Maui is a great spot for surfing and an even better one for windsurfing and kiteboarding; head to Honolua Bay for the best waves. Even if you're not here to hang ten, there's plenty to do on Maui - from hiking in the rainforests or kayaking and snorkelling around the coral reefs to traditional Hawaiian luau parties and hula dancing.
Whether you want to take it easy on the white and red sand beaches, hike through stunning natural scenery or get friendly with the local marine life, Maui has something for everyone and is one of the planet's best holiday destinations in July.
Best for: long-haul travellers looking for new adventures.
We hope this helped answer where should you go on holiday in July. If we missed your favourite July holiday destination, let us know in the comments below.
If you found this post on where to go on holiday in July helpful, you may want to read more of our Travel Tips articles. Also check out our travel blog for additional inspiration and travel tips to make your holidays hassle-free!
If you enjoyed this post like us on Facebook and follow us on Twitter or subscribe to our YouTube channel.
Written by Lise Smith, a former contributor to Lonely Planet's India guidebook - she's seen her fair share of hotel rooms (both grotty and glamorous!). She learned to walk in a hotel corridor in Tunisia, and at the age of three had been on more aeroplanes than buses. Lise writes for a number of local news, technology and arts publications.
Top