Faster and smarter in the app...
Open app
The Essential Guide to Wild Camping in the UK
Get a little wild.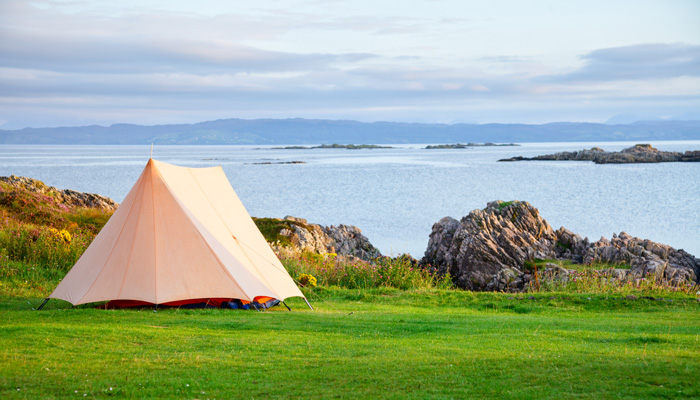 Campsites can be great - all of the amenities are there and you won't want for anything. However, in recent years many have turned to 'wild camping' in an effort have a holiday that is more personal, unique and secluded.
What is Wild Camping?
'Wild camping' is where campers choose to stay in spots outside of organised campsites, often in places off the beaten track. There are a number of restrictions on wild camping in the UK, yet it remains popular - both legally and illegally.
Wild Camping in the UK
In England and Wales, wild camping without prior permission is prohibited, with the exception being in Dartmoor, Devon, where campers can stay for up to two consecutive nights. So you might not be able to pitch up wherever you like in the UK, but there are a number of landowners who will give you permission.
For risk-free wild camping, look no further than Scotland, where the practice is legal, and the scenery is simply beautiful. Bear in mind that the Highlands can get very blustery and bitterly cold, so it's best to go in the summer months and stash a few jumpers.
Where Can I Wild Camp?
Dartmoor in Devon has a number of areas where wild camping is permitted, and here you'll find jagged scenery and wildlife in abundance. Your tent should be pitched at least 100m from public roads, and all litter should be cleared when you leave. Take a look at this map to see where you can and can't camp.
Scotland offers a huge selection of wild camping areas with views that will take your breath away. For picturesque beauty, try Calgary Bay on The Isle of Mull, or for a fantastic hidden gem try Easdale or Sourlies. Before wild camping in Scotland, do make sure that you're familiar with the Scottish Outdoor Code.
Tips for Wild Camping
Be mindful of the environment. Avoid disturbing any of the wildlife around you, and be sure to clear up after yourselves, taking any litter or anything that could become a fire hazard.
Make sure that wild camping is for you. Wild camping isn't for everyone. Yes, you'll be closer to nature. No, you won't have your creature comforts. Consider whether you can really hack it!
Choose your location carefully. Location is everything. Not only should you choose somewhere that is legal, but also try to find somewhere with lots to do and see (and don't forget your map!).
Check the weather. Particularly important in Scotland where more extreme weather is experienced, make sure that you know what the weather's going to do so you won't have any nasty surprises. Always pack warm clothing to be safe.
Pack wisely. This is not the time to pack in a hurry! Check that you have everything you need - lists like this one are always handy.
Wild camping isn't for the faint hearted, but it certainly is rewarding. It's not often that you can get so far away from the hustle and bustle of daily life. When done properly, it's one of the best camping experiences you could have.
If you enjoyed this post like us on Facebook and follow us on Twitter or Google+.
Sarah lives in London but has a bucket list longer than her arm. She's spent time everywhere from Russia to Australia, and has more than a few trips planned for the future. In the meantime, she works in social media and writes for a number of publications. Follow her on Twitter.
Top