Faster and smarter in the app...
Open app
St Lucia Lionfish With the Travel Foundation
Helping local fishermen in St Lucia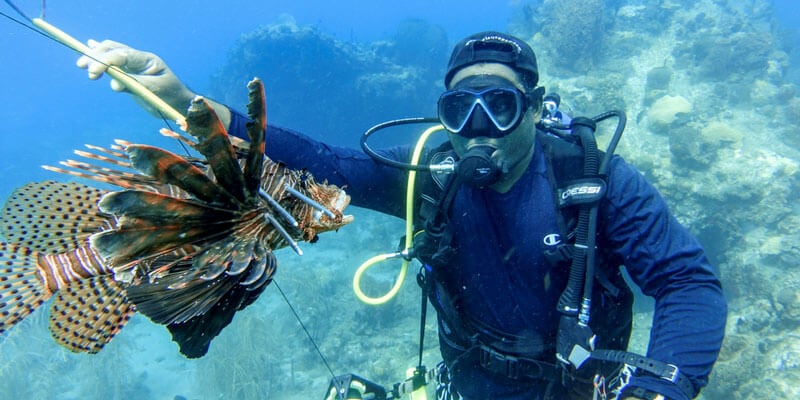 Here at Holiday Extras we believe travelling better means travelling sustainably. That's why we're proud to support the Travel Foundation's Lionfish project, which aims to protect the coral reefs around St Lucia by encouraging farmers to catch and sell the invasive lionfish.
Why are lionfish a problem?
Lionfish are a carnivorous fish native to the Indian and Pacific Oceans that is now an invasive species in the Atlantic.
As as a result, the lionfish is proving to be a real menace to the St Lucian ecosystem, where they have reduced the native fish stock by up to 80%. Not only does this affect the health of the coral reefs that surround the island nation, but also impacts the livelihoods of the local fishing communities.
How can we help?
Fortunately, the Travel Foundation are helping these communities turn this problem into a fantastic opportunity. Through education, they're changing the misconception that lionfish are poisonous and can't be eaten (although the spines are venomous, with correct handling they can be safely and easily removed), and are encouraging fisherman to sell lionfish to local hotels and restaurants. Through this increased consumption, the lionfish population will be kept in check and the local communities will receive and influx of income.
What will we achieve?
The Lionfish project aims to decrease the lionfish population by 30%, increase lionfish sales to hotels and restaurants by 50%, and boost the income of local fishing communities by 50%. Holiday Extras are proud to support this project, and we'll keep you updated on its progress.
Learn more about the Lionfish project HERE.
Want to know more about our work with the Travel Foundation? Take a peek at our visit to the 'Taste of Fethiye' project with Girl Vs Globe.
Why not try some authentic St. Lucian recipes yourself HERE.
Been inspired to travel better? Read our tips for travelling sustainably.
Have a glovely Christmas (unless your a lionfish)!
If you enjoyed this post like us on Facebook and follow us on Twitter or follow our Youtube Channel. Top