Faster and smarter in the app...
Open app
The Fabulously Essential Guide to Gay Pride
Everything you need to know to celebrate Gay Pride, fabulously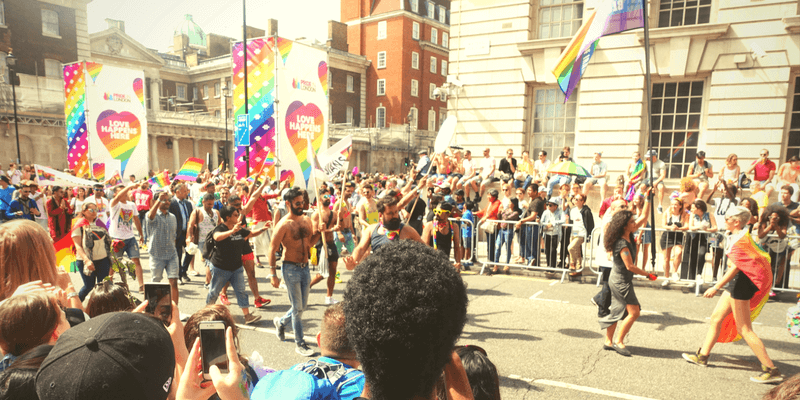 The Bona Fide Guide to LGBT Pride
Pride in London, 8th July – We sent Dan from the Travel Guides team to the Pride in London Parade with the sole mission of helping you travel better this summer.
Any seasoned Pride-goer will know what an intense and exciting event a gay pride march can be; the drag queens… the dancing… the day-drinking… all of which, come straight to mind.
But what if you're new to Pride in London, or if you're planning on celebrating at various other Pride events across the globe?
I went on Saturday, have lived to tell the tale, and have come up with this Pride Survival Guide to help you make the most of your celebrations. Read on for my tips and advice on how to travel better to Pride this summer.
How do I travel to Pride in London?
Personally speaking, I live in the armpit of nowhere and this if often my first hurdle whenever I make plans for anything.
Can I drive to London?
Hmmm… Like, yes, you can drive… if you really, really wanted to… but I say good luck with that.
Driving in London is a nightmare at the best of times, and with an increased number of fabulous bodies descending upon the city for Gay Pride, getting around is likely to be an epic disaster, and just not worth the stress in my opinion – not to mention there's some disruption around the West End as main roads are closed off to make way for the parade.
Besides, it's a party, nobody wants to be designated driver and if you drive to London, where will you park?
What about a hotel in London?
Getting a hotel for Pride isn't the worst idea, just bear in mind that rates are expensive in the City all year round, so prices rocket around the time of an event like this, and all the best rooms get snapped up really early.
If you absolutely insist on taking your car and staying overnight, one option might be staying at an airport hotel with parking.
For example, if you were to stay at a hotel in Heathrow, most properties offer overnight parking (sometimes for a fee) to guests. From there, connections to central London are pretty straightforward thanks to the Heathrow Express, which will take you to Paddington in less than an hour. Similarly, the Gatwick Express (from Gatwick airport, obviously) goes straight to Victoria and takes about 30 minutes. It would be quieter than the city centre but you'd need to weigh up the added expense and effort.
Couldn't I just get the train to Pride?
100% yes!
Unless you have the luxury of living at the National Portrait Gallery and therefore are a mere stone's throw from Trafalgar Square, where the party's at, getting a train to Pride in London is without a doubt your best option.
In fact, if you plan to attend any major Pride event up and down the country this summer, getting a train is definitely the best bet.
The real cherry on top is that public transport in London was as reliable as ever throughout the day, especially the Tube, with services running as normal. Everyone's in a great mood and it's great to see the party literally taken Underground.
Elsewhere, it would be a good idea to see if local buses are running as usual, if Uber is available and how a rough idea of how much walking you can expect to do.
How do I get around London during Pride?
Getting around London is easy enough at the best of times, and Saturday was no exception.
I got myself a Travelcard for the day, which included my return home and access to the Tube and buses, giving me the luxury of jumping on and off wherever I wanted throughout the day.
However…
Prepare to spend a lot of the day on foot.
I got off at Westminster since I was meeting friends by Big Ben and the Houses of Parliament (ever true to form, I was late).
From there we walked up Whitehall to catch the start of the parade, which by this time had already left the starting point of Oxford Circus, made its way down Regent Street and past Trafalgar Square where it would continue past us at our spot on Whitehall.
That was around 1pm(ish) and I didn't use public transport until I caught the last train home.
My advice would be to double-check if a Travelcard is the best option for you on the day. In this instance, contactless payment via my iPhone or debit card would have been cheaper for me.
What should I wear to a Pride Parade?
Indeed a very good question, and one that I'm not entirely sure how to best answer.
For me, it's always about being fashion-forward and living up to my self-professed status of style icon. I went with a trademark black ensemble – shorts, t-shirt, trainers and underpants, so overall rather conservative.
But that's enough about me.
What do other people wear at Pride?
The great thing about a Pride party is that absolutely anything goes; you'll see all walks of life from the gay community.
Expect fabulous drag queens bejewelled in gorgeous sequence gowns and beefy hunks in the teeniest-tiniest hotpants leaving very little to the imagination, as well as the out-and-proud young gays lathered in every colour of glitter you can possibly imagine, while rainbow flags adorn the backs of community members and allies alike. For me, the real eye-opener, and overall crowd-pleaser came from Puppy Pride, which really isn't what you think it is.
In a nutshell, you can wear whatever the hell you like. No one's there to judge – in fact, it's quite the opposite, and if you're easily offended, you'll quickly get over it.
The weather at Pride
This is the UK and as you probably know by now, Summer can come and go in the blink of an eye.
Fortunately, the weather was fabulous this weekend.
As a word of advice, around mid-afternoon I found myself trying to get to Trafalgar Square. It was incredibly hot and the crowds were getting larger and larger. A bottle of water and plenty of suntan lotion did me the world of good at this point. That being said, there was also a waterproof in my backpack, just in case.
What should I bring to Pride in London?
Absolute essentials for anyone attending a Pride event should arm themselves with the following necessities:
Suntan lotion – buy a decent brand and apply it regularly
A waterproof coat – I don't need to explain this one
Comfortable footwear – You'll be grateful by the time you get home
Sunglasses – Protect your eyes and look like a G in the process
Snacks – What with queues and expensive prices, it's best to come prepared
Water – Regular hydration is an absolute must this summer
A cheeky M&S gin-in-a-tin – As it is a celebration after all
What are the people like at Gay Pride?
Good question.
Firstly, the people at Gay Pride are fabulous. Every single one of them.
Secondly, they're also pretty awesome, amazing and did I already mention fabulous?
I said earlier that you'll get people from all walks of life at Pride in London, which is also true of any other LGBT Pride event around the world.
This year's theme at Pride in London was #lovehappenshere, which pretty much sums up the people and the atmosphere.
Pride is a celebration of love, freedom and the right to be yourself. The massive street party in Soho also means that people are in pretty high spirits, especially after consuming plenty of spirits throughout the day.
You'll see couples, both straight and LGBT, you'll see families and children and generally anybody looking to have a great time and celebrate love!
What are the highlights of Pride?
On 8th July, the parade is obviously the best thing about Pride in London. The atmosphere is alive, everybody is happy and the people are, well, proud.
Expect to see banners and Pride flags. Expect to hear loud, live music and cheers from the crowds.
Speaking of crowds… it got pretty hairy at one point.
We were trying to make our way up to Trafalgar but were grid-locked for a good hour since people were either moving one way or the other. Bodies packed front to back in the searing heat was definitely not the highlight of my day. Though I am always one to make the most of a situation and made friends with some lovely girls who gave me free Italian lessons. Grazie.
Looking for things to do after the pride parade in London? Head up to Soho where it's one massive, great big street party! We made our way to G-A-Y where the music was campy, cheesy and generally amazing. If you love your Whitney, Britney, Blondie and Riri, not to forget Girls Aloud, Katy Perry and all the greats, this is the place to be and entry was free.
Is Pride Safe?
Of course, you would have seen London (and Manchester) in the press for a number of negative reasons lately, which admittedly can be a little intimidating.
However, what I absolutely love about us Brits, Londoners especially, is that we're not scared to stick their fingers up to the bad guys and carry on about our business.
Police were EVERYWHERE, but it wasn't hostile. In fact, they were having just as much fun as everyone else.
Obviously, you're number one priority should be to take care of yourself, but the City of London and the Thames Valley Police were absolute gems pulling off a tremendous day where people could party and be themselves freely.
Dan's final thoughts about Surviving Pride
Pride in London, to say the least, isn't to be taken lightly and that's a good thing because it's a bloomin' hoot – just be prepared, have fun and play safe kids!
London certainly knows how to party and isn't afraid to show the rest of the world that it's as proud and diverse as ever. This great city is a welcoming, open-minded city and certainly earns its place as one of the best LGBT travel destinations in the world.
But we knew that anyway.
Pride in London 2017 might be over, but there's plenty of other Pride Events to travel better and support this summer. Plus we're sending our one of our newbies, Jake, to Brighton Pride in August – get in touch via our social channels below and tell us where he should visit and what he should get up to before he goes.
Happy Pride!
For more articles like this, check out our blog or be sure to follow us on Facebook and Twitter to stay up to date with the latest tips and guides. Plus, don't forget to subscribe to our YouTube channel.
Top