Dubai Travel Guide
Marhaba intrepid explorers and welcome to our Dubai travel guide - the only place to find out everything you need to know before you travel.
---
Dubai is considered by some as the Las Vegas of the Middle East - with luxury hotels, all day entertainment and high-end shopping. It may be the playground of the rich and famous, but it's also a great destination for families and it is possible to visit on a budget.
What we cover in our Dubai Travel Guide!
---
Getting to Dubai
Dubai is served by Dubai International Airport, the world's busiest airport by passenger numbers. It's a great modern airport, with plenty of shops to keep you busy on departure!
The easiest way to get from the airport to your hotel is to ride in an Uber - there's even a designated drop-off and pick-up area for Ubers and we waited no more than five minutes for ours. We took about a 20-minute journey and it cost 85 dirhams, which is about £17. It's a very convenient way to get to your hotel, but there are of course cheaper options or alternatives if you don't wish to use Uber.
If you prefer to have the trip to your hotel sorted before you fly then why not pre-book an airport transfer. Prices will vary depending on how far it is to your destination and whether you choose a shared or private transfer.
Cheap Airport Transfers in Dubai from £7.56
Airport Transfers Dubai

Transfer to/from
Transfer time
Price Per Person
Dubai city
40 minutes
£11.86 (Shared shuttle bus)
Jumeirah Beach
1 hour
£8.56 (Economy taxi for 3 people)
Atlantis Hotel
40 minutes
£18.43 (Luxury transfer for 3 people)
Downtown Dubai
30 minutes
£8.87 (SUV transfer for 4 people)
Silicon Oasis
40 minutes
£7.56 (Minivan for 8 people)
Dubai Port
25 minutes
£10.50 (Taxi for 3 people)
Palm Islands
1 hour 30 minutes
£8.82 (Private minivan for 8 people)
Prices calculated for one passenger travelling one way in a vehicle at full capacity. Prices correct at time of writing, may be subject to change according to supplier availability.
---
Practical Info
Dubai is the most visited city and emirate within the United Arab Emirates - it is home the world's tallest building the Burj Khalifa. The city is known for luxury, entertainment and modern architecture - and has becoming an increasingly popular holiday destination.

The desert climate means that whenever you visit you're sure for warm temperatures - if you visit in summer be prepared for scorching heat. Most UK tourists are more comfortable visiting between December and March when temperatures are more bearable.

Time zone: GMT +4
Currency: United Arab Emirates Dirham (AED)
Power adapter: Dubai uses type G (same as UK).
Language: Arabic
Flight time: Avg. 7 hrs

DUBAI WEATHER
Learn the basics of Arabic with India and Dubai local Arva from Frying Pan Adventures.
Although English is widely spoken and understood in Dubai we feel it's always good to try and learn a few key words and phrases from the local language.
---
UPDATE: Covid-19 Advice
Dubai was removed from the UK travel corridor on 11th January, meaning you now need to self-isolate when you return to the UK.
UK travellers now have the option to take a PCR (covid) test on arrival at the Dubai airport - meaning if you test negative you are free to holiday in peace. If you test positive for COVID-19 you will be require to self-isolate in a government led facility, a hospital, your hotel or privately arranged accommodation.
You are also required to complete a Health Declaration Form and a Quarantine Form ready to be handed to airport staff on arrical. You must also register on the COVID-19 DXB app.
(Image credit: Apple App Store)
---
Getting Around Dubai
Dubai is a city that has been built around the car. Multi-lane highways criss-cross the city and using Uber or local taxi app, Careem, is generally the quickest way to get around. A walking city Dubai is not. If you're looking to rent a car for your stay you can hire one for as little as £16 a day. Though, we have to say this is the city of fast and fancy cars so you could push the boat out and hire a Ferrari.
If you prefer to stick to public transport however you're in luck as Dubai has some of the cheapest public transport tickets in the world - so if you'd rather save cash than time, then getting the metro can be a good idea. We recommend getting a NOL card for your trip, which is the equivalent to an Oyster card in London. You load up the card with an amount for your stay and then simply tap in and out when you ride the metro. They also cover buses and trains - and even give you entry to some of the parks.
There are two lines, red and green, with more lines either under construction or being planned. As a tourist you're most likely to use the red line, which runs parallel to the coast and stops at major sites such as the Burj Khalifa, Dubai Mall and the Mall of the Emirates. In fact, at 52km the red line holds the very specific world record for the longest driverless single metro line.
Where to stay in Dubai
It's not all 6-star hotels and super expensive apartments (although there's plenty of that too), there are lots of more affordable and (dare we say) interesting places you can stay too.
---
Top Places To Go
Burj Khalifa and The Dubai Fountain
No trip to Dubai is complete without a trip to the Burj Khalifa, after all it dominates the skyline wherever you go. If you've got a head for heights then you can ascend the tower - most people will book tickets for floors 124 and 125 as these are the main observation decks, though you can pay a little extra and head as high as floor 148. The busiest time to visit is at sunset, so if you want to see the sunse from the tower we do recommend you book well in advance. To avoid the crowds then head there during the day on weekdays as this tends to be the quietest time. If you're not great with heights and want to give it a miss, we recommend at least travelling to the foot of the tower where there are some amazing water fountain shows akin to those you'd see in Vegas.
Our tips for a trip to the Burj Khalifa
The Burj Khalifa is a shining monument to modern design, engineering and money is the dazzling showpiece of downtown Dubai - and for many riding the lift to the top of the tower is high on their travel bucket list.
Ride to the top of the Burj Khalifa
Mall of the Emirates
Now visiting a mall might not sound like your idea of a holiday, but this really is a mall like no other! There are of course hundreds of shops to browse, but not only that this is home to Ski Dubai - an indoor ski slope with real snow. You can hit the slopes here on skis, snowbaords, snow tubes and zorbs - plus you can have breakfast with penguins! Yes, that's right Ski Dubai is home to a colony of King and Gentoo penguins.
Desert Safari
Though there's plenty to keep you occupied in the city, it would be a shame not to get out of the city and expierence the desert. There's various desert safari's on offer, so you can pick the one that appeals to you the most. There are opportunities to ride camels, go sand boarding, drive dune buggies, go dune bashing and have a BBQ in the desert. It's a great experience, and one you'll be sure to remember.
Visit the Souks
There are a number of different souks to explore within the city - and even if you don't have a skill for haggling you can still wander adn enjoy the sights and smells. If you're looking for some statement jewellery to remember your trip then head to the gold souk. Or visit the vibrant spice souk for some authentic middle eastern spices to take home with you. Just remember prices aren't set in stone, so don't be afraid to haggle for a better price!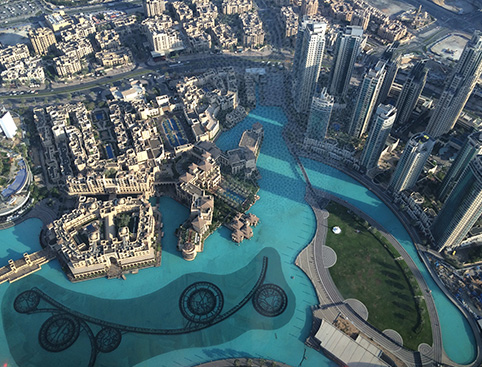 Burj Khalifa - At The Top SKY
This is the highest you can get without actually boarding a plane.
From only £87 per person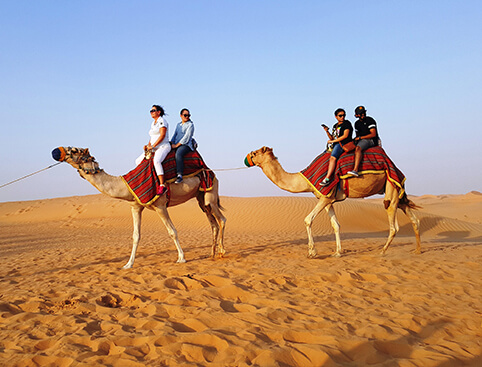 A trip to Dubai is not complete without a desert experience.
From only £37 per person
---
Best Beaches
There's no shortage of beaches in Dubai, and most of the best beaches are completely free to visit. There are however some private beach clubs you can pay to enter, and some of these are well worth the expense, especially if you want to feel like you're part of the elite!
La Mer
La Mer is without a doubt one of the best beachside neighbourhoods in Dubai, espeically for families. This area is perfect for a whole day, not only is there a fantastic beach to laze about on, there's dining, shopping, inflatable play park, a cinema and a water park. There's really no need to go anywhere else in the day!
Kite Beach
This used to be a hidden gem amongst ex-pats but now it's a very popular and well known place to hang out, with great beach sdie amenties, free Wi-Fi and food trucks. The beach offers great watersports opportunities, such a kite boarding which gives the beach it's name! There's fantatsic views of the Burj al Arab and a beach front running track, if you like to keep fit even when on holiday!
The Beach, JBR
This is probably one of the spots to hit the beach in Dubai - without paying an entry fee. So it pays to get here early, especially on the weekend. Here you'll find resturants, shopping, outdoor gym, open-air yoga and water sports. Or you can just throw your towel down and work on your tan!
---
Dubai For Families
As we said earlier Dubai is a fantastic location for families, although make sure to pack plenty of sunscreen! With a 7 hour flight time, it's actually a shorter trip than to Florida - and can make an excellent alternative to the classic Disneyland holiday.
The great thing about Dubai is that many of the hotels are well set up for families, with kids clubs and a range of different pools to choose from. Meaning before you even step outside the hotel there's plenty to keep the family entertained.
When choosing a hotel we highly recommend choosing one close to all the action - especially if as a family you love theme parks. Dubai has a few theme parks to choose from, there's Legoland Dubai, Motiongate, IMG World's of Adventure - plus when you are tired of those there's water parks, aquariums, indoor ski slopes... the list goes on. You're not going to be bored in Dubai that's for sure.
Join us for the best Dubai food tour.
Take a walking tour of Deira's best street food hotspots with Arva from Frying Pan Adventures - if you're spending a few days in Dubai this walking tour is a total must-do.
---
Accessibility In Dubai
Dubai had ambitions to become the most accessible city by 2020 and to showcase this at the 2020 World Expo, however that expo has now been delayed until October 2021.
That being said, the city is already well set up for travellers with accessibility needs - locally they are known as 'people of determination'. Dubai is famous for being an ultra-modern city, which means that many of the buildings, sites and attractions have been built with accessiblity in mind.
At the airport there are dedicated check-in areas, free parking, dedicated lounges and priority access - so you can rest assured there should be no issues when you arrive.
The Dubai Metro features dedicated spaces for wheelchair userd on each train, and there ticket machines etc are set up with audio-visual accessiblity options as well. Though it must be said the metro unfortunately doesn't cover the entirety of the city, and there may be some distance to cover between the metro station and the sites you are visiting.
There are accessible taxis available - but these must be pre-ordered therefore you often will have to plan your day in advance to make sure you can get around.
Most of the sites are accessible, such as the Burj Khalifa, and will have accessibility facilities. There are also set accessible beaches throughout the city - at Al Mamzar Creek, Al Mamzar Corniche, Jumeirah 2 and 3, as well as at Umm Suqeim beach.
---
LGBTQ+ Travellers
There's no point beating about the bush, homosexuality is illegal in Dubai and therefore public displays of affection may get you in trouble. That being said, Dubai is probably the more liberal of the United Arab Emirates and so the punishments are slightly less drastic here.
You may be wondering whether it is safe to travel there - in general if you are prepared to go back into the closet then you are unlikely to run into any major problems. After all a large proportion of the population now are ex-pats and may be less strict.
It is a Muslim country, therefore as with any country you should respect and obey the laws, this applies even to heterosexual unmarried couples.
When booking a hotel it is wise to book a double room as sharing a bed is not allowed, however if you book a larger well known global hotel chain this is less likely to be an issue.
As with any country with laws against homosexuality the key to travelling there is to be mindful and be safe - most importantly being avoid all displays of public affection.
From a moral standpoint, whether you wish to visit Dubai is really a personal choice.
---
Up next:
Looking for more inspiration, information or a handy travel guide? You'll find more on our travel hub.
Suggested article:
Thinking of booking last minute?
We're here to help
For the fastest, smartest, most personal service in travel our team is available by live chat every day of the week from 9am to 5pm.
Simply follow the "help team" link at the top of the page at any time.
---