Faster and smarter in the app...
Open app
6 of the Best Greek Islands
Take me to the islands of Greece...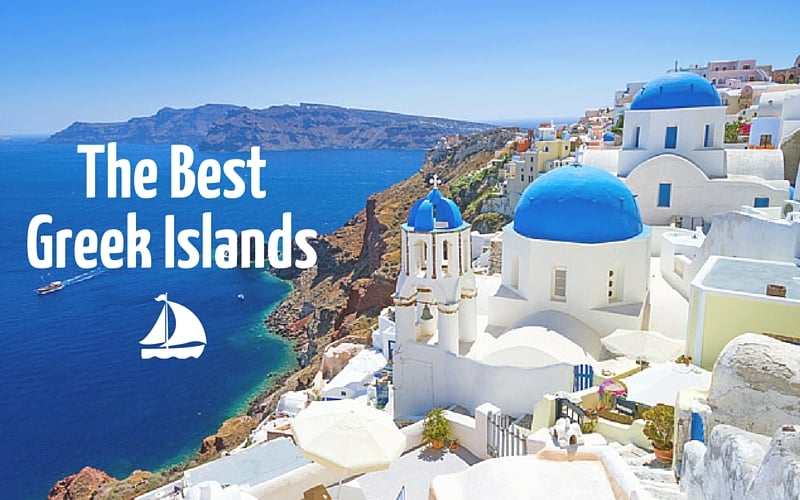 If you're looking for the best Greek islands, there's a lot to choose from. Whether you want the islands with the best nightlife, or the best Greek beaches, there is a perfect Greek island out there for you. (Don't forget to book your Greece holiday insurance!)
Which are the best Greek Islands for a holiday? We've rounded up a few of our favourites, with recommendations for different types of traveller.
The great news about Greek Islands is that once you've fallen for one, there are many more still to get to know. Up to 6000 in total, depending on what you count as an island - though only around 200 are inhabited. That's a whole lot of beautiful, Mediterranean islands to discover!
Best Greek Islands for families
Greek culture is very much centred around the family, and most of its islands are geared up for catering to parents with young children or teenagers. While you may want to research resorts away from known 'party zones', the following have a good offering for families.
Naxos
Naxos is said to be the 'ultimate family holiday island' by many travellers: it's a popular choice with discerning tourists, but doesn't get too busy; has great beaches, plenty of family-friendly activities and just enough historical sightseeing options to keep Mum and Dad happy.
The only downside to a family holiday in Naxos is the lack of direct flights from the UK: you'll need to go via Athens, Santorini or Mykonos, then catch a ferry. Parents with very young children may want to avoid a journey with several changes - but the ferries are frequent, and remember this is one reason the island is still so unspoilt.
Crete
Being the largest of the Greek Islands, Crete presents no such accessibility obstacles, and is also an ideal family destination. Its southerly location results in a wonderfully warm climate, so this is a great destination for those who just want to spend days chilling out by the beach or pool.
Kids will love the many water parks that have sprung up to cater for younger visitors, while there are so many beaches you'll be spoilt for choice. Check out this list of the most family friendly beaches in Crete to narrow down your options.
Best Greek Islands for beach holidays
Zante
Zante is one of the largest of the popular Ionian Islands, with around 76 miles of coastline. For this reason, it's practically as popular with sea turtles as it is with tourists: you'll often see them hanging out on its shores. The main draw for beach-goers, however, is the famous Navagio or 'Shipwreck Bay', where a ruined ship sits in a deserted cove, surrounded by white cliffs. The scene is only reachable by boat, and many visitors choose to take a trip by water taxi from nearby Porto Vromi.
For a taste of the unspoilt, visitors to Zante may also want to check out Marathonissi beach; an idyllic spot on the islet also known as 'Turtle Island'. Home to the endangered loggerhead turtle, the islet with its beautiful Bay of Laganas has been granted protected status by the National Marine Park of Zakynthos. As well as being home to these magnificent creatures, the island is also shaped like a turtle when viewed in profile! Many visitors choose to rent a boat and spend a day exploring this natural oasis.
Kefalonia
Kefalonia's beautiful beaches are the stuff of legends, so if you want stunning scenery and ice blue sea, you can't go wrong with a visit to the Ionian island that inspired 'Captain Corelli's Mandolin'. Myrtos beach is the most favourite, having been repeatedly voted the most beautiful in Greece, but there are many less well-known spots where you can enjoy the very best in sea and sand. Xi beach is unlike most other beaches on the island due to its lack of cliffs and striking amber-coloured sand, while Antisamos Beach offers the classic combination of clear water, stunning vegetation and white sand.
Best Greek Islands for nightlife
While many spend a lifetime looking for 'unspoilt' Greece, others flock to the country's islands with one aim in mind: party! Which are the best Greek Islands for vibrant nightlife?
Mykonos
Buzzing and brazen, yet also stylish and popular with the cruise crowd, Mykonos has a great deal to offer to the good-time traveller. The island's narrow, labyrinthine streets are rarely empty, but in summer, it's full-on party season with revellers coming in from all over Europe and beyond. Being a little pricier than some of the dreaded 'hooligan hotspots', Mykonos is said to attract a more sophisticated and somewhat older crowd than the '18-30-style' resorts of Malia et al, and is also known to be more gay-friendly.
Ios
Ios' reputation as a party island for younger visitors has come to rival that of Ibiza, Kos or Rhodes, and the island is bursting with beach bars, outdoor discos and full-scale nightclubs. It's also a beautiful spot in the Cyclades, complete with stunning beaches and white-painted clifftop villages, so you won't be disappointed if you want to do a little more than just dance all night. For those who do just want to go raving, however, there are countless opportunities. Check out the top nightlife attractions in Ios for a taste of what's on offer.
If you found this post on the best Greek islands helpful, you may want to read more of our Wanderlust articles. Also check out our travel blog for additional inspiration and travel tips to make your holidays hassle-free!
If you enjoyed this post like us on Facebook and follow us on Twitter or subscribe to our YouTube channel.
Written by Abi Silvester, a London-based writer and editor with a passion for great food, fine wine, coffee and cats; always planning my next trip! Follow her on Twitter.
Top