Faster and smarter in the app...
Open app
The Best Beaches in Cuba
The beaches of Cuba are paradise on earth.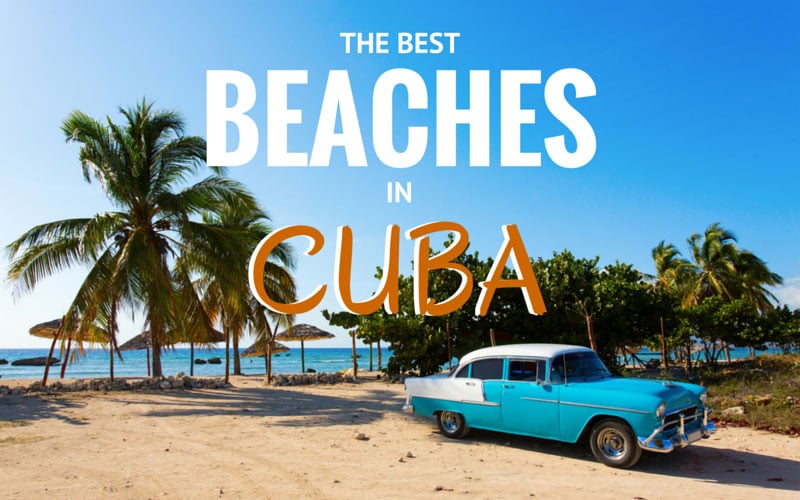 There are countless compelling reasons to visit Cuba in 2017, but among some of its biggest attractions are the beautiful Cuban beaches. Vast stretches of unspoiled white sand meet the stunning blue Caribbean skies in these beautiful long-forbidden natural playgrounds. Don't forget to book your Cuba travel insurance before your holiday and read on for our brief guide to the best beaches in Cuba.
Varadero Beach, Cuba
Perhaps Cuba's best known beach, Varadero is the stretch of pristine white sand that lines the Hicacos Peninsula, a narrow stretch of land that juts out from the island's Northern coast. The stunning resort with its spas, golf courses and luxury hotels is not only one of the best beaches in Cuba, it's was also one of the most forbidden up until recently: American tourists in particular were expressly forbidden from indulging in holidaymaker activity on the island, and at Varadero there is practically nothing else to do.
Guardalavaca Beach, Cuba
Guardalavaca is a typical example of the classic Cuban beach: swaying palms, miles of white sand and clear blue sea as far as the eye can see. Clusters of little cafes and bars and a bustling outdoor market are only minor distractions from the vast stretch of sand sea, which is said to be remarkably clean and free of seaweed. Visitors can walk for hours without coming to the end of the beach, which makes it a great choice for those looking to relax, recharge and get close to nature.
Cayo Largo del Sur Beach, Cuba
An almost impossibly stunning landscape, complete with coral reefs, glittering fine sand and its own shuttle train between beaches, Cayo Largo del Sur is a true paradise that deserves a prominent place on your bucket list. Uninhabited by permanent (human) residents, this small islands off the Southern coast of Cuba was once thought to have been used as a pirate base, and Christopher Columbus is said to have stopped off here.
The island is arguably home to some of the best beaches in Cuba, which are widely considered to be some of the most undeveloped in the world. Sea turtles, dolphins and other marine life are regular visitors here, so this is a superb spot for wildlife-watching.
Playas del Este Beach, Cuba
One word springs to mind when conjuring up visions the beaches of Playas del Este: idyllic. Six beaches in one, this beautiful section of Cuba's Eastern coast, which has been described as Havana's own 'Riviera'. City dwellers flock to this glorious unspoiled coastline during the summer months, which has so far almost completely resisted the modern development starting to creep into the better-known Cuban resorts. A taste of old Cuba that may not linger for long, the Playas del Este are offer a unique experience to visitors. While you're in Havana, you may want to check out some of our itinerary recommendations such as drink a mojito in Havana and more.
Cayo Coco Beach, Cuba
The popular resort of Cayo Coco is part of a chain of islands called Jardines del Rey or 'King's Gardens', based on Cuba's North Central coast. With its luxury hotels and plentiful beachfront bars, Cayo Coco is well-equipped for visitors, most of whom are content to do little more than sunbathe, swim and enjoy the spectacular views. Playa Pilar is perhaps the most popular beach spot on Cayo Coco, and a panoramic bus tour operates between the various hotels and beaches.
Playa Ancon, Trinidad, Cuba
Trinidad's beaches are the stuff of holiday legend - and with good reason. Take Playa Ancon for example: it's an absolutely gorgeous spot, with its parade of straw umbrellas and inviting golden sand, with calmer waters than some of its neighbours. The gentle currents make Playa Ancon an ideal choice for those who want to give scuba diving a try, and when you've had your fill of beach action, the charming old town of Trinidad with its car-free cobbled streets and colonial buildings is just a short journey away.
Cayo Santa Maria Beach, Cuba
A popular honeymoon destination, Cayo Santa Maria is a delightful island spot on Cuba's North Central coast. Overlooked by a smattering of luxury hotels, the long and scenic sandy beaches are popular spots for swimming, snorkeling and watching the sunsets, which are said to be particularly spectacular. There's a full 13 km of publicly accessible beach to be explored in Santa Maria, so if sea and sand is your thing, you'll never want to leave.
If you found this post on the Best Beaches in Cuba helpful, you may want to read more of our Wanderlust articles. Also check out our travel blog for additional inspiration and travel tips to make your holidays hassle-free!
If you enjoyed this post like us on Facebook and follow us on Twitter or subscribe to our YouTube channel.
Written by Abi Silvester, a London-based writer and editor with a passion for great food, fine wine, coffee and cats; always planning my next trip! Follow her on Twitter.
Top