Faster and smarter in the app...
Open app
The 5 Best Cities in the World to See Street Art
Enjoying art out in the open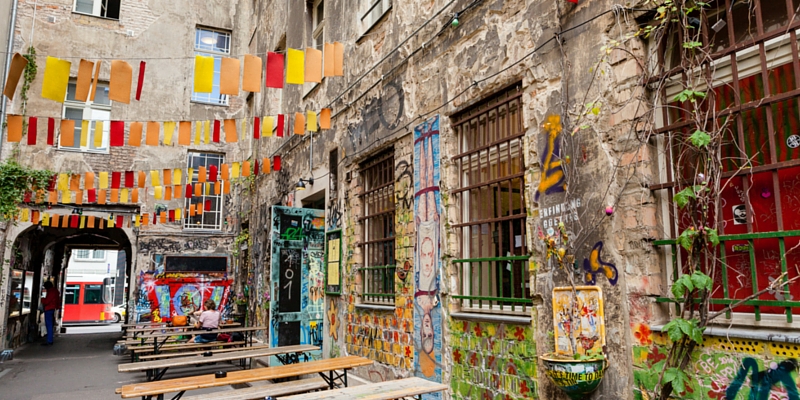 Wandering around a city's museums and art galleries is a must for many travellers. However, there are a significant number of us who would prefer to get our art kicks out on the road, coffee and camera in hand, with no queues, no glossy brochures and no need to whisper. Welcome to street art.
Whether expanded on, or cleaned off and completely replaced, one of the big draws of street art is that it's constantly changing. Whilst it can be fun to just wander and explore, if you're serious about seeing street art and finding out about the artists who create it, the best option is to book a tour. A guided tour can provide you with an itinerary to follow that encompasses the best of what there is to see.
Berlin
Image by Jumilla under Creative Commons license.
If you're new to street art culture, this may well be the best place to start. Berlin has a long history of being a haven for street artists; just think of the Berlin Wall as a ready made canvas and you'll know why. You'll see everything from graffiti, slogans, paste ups, and cartoons to pieces that could pass for more traditional art.
For a taste of the best that Berlin has to offer, head to the city's first and most central borough, Mitte, which has a long history of street art with a much more gritty, edgy feel. You'll find the most famous works in and around Rosenthaler Strasse, including pieces by Berlin-based urban artist, El Bocho and there's even a Banksy.
Friedrichshain, in Berlin's borough of Friedrichshain-Kreuzberg, is a trendy and upcoming district with a lot of great examples of street art. It is also home to the famous East Side Gallery (pictured), the longest remaining part of the Berlin Wall, which has been transformed into an outdoor international gallery. Artists to look out for include Kripoe, Alias and Xoooox. Definitely worth a visit!
Los Angeles
Image by Lord Jim under Creative Commons license.
Surprisingly, the City of Angels and birthplace of Hollywood has its own history of street art, which really comes to life in that Californian sun. Big street art spotting areas include La Brea, just east of Beverly Hills, where you'll find world-famous Banksy pieces outside the New Beverly Cinema, and the eerie skeleton figures of LA-based artist, Skullphone.
Head over to the Los Angeles Westside for a look at a psychedelic "heaven and hell" mural on Santino's, a Venice Beach restaurant. There's also a mesmerising Audrey Hepburn at Argentum Photo Lab, created by LA street artist Free Humanity.
London
Image by Bob Bob under Creative Commons license.
London's best street art is in the heart of the East End, around Spitalfields and up towards Hoxton. It's not a huge area and can easily be covered in a few hours of gentle ambling, but you should be able to spot works by some of the most famous street artists around.
The most famous artists include Shepard Fairey, who rose to prominence through his Barack Obama 'Hope' poster, and Banksy, with his iconic Obey piece. There's also Stik's humourous stick men and some fabulous stencil pieces by London artist, Grafter.
São Paulo
Image by Christina Xu under Creative Commons license.
If you'd like to combine a bit of street art with a long haul destination, then São Paulo, Brazil is the perfect place, as the city is literally covered in art. More and more housing estates, tube stations and even cemeteries continue to be covered with colourful spray paint. With the support of local authorities, these fantastic pieces are likely to remain for a long time.
Vila Madalena is a hotspot for Bohemian culture and art in Sao Paulo. The neighbourhood is full of eclectic art galleries and studios and has plenty of colourful graffiti-covered streets and alleys. Keep an eye out for spectacular murals by Speto and Nunca, Pata, or Os Gêmeos, a couple of brothers whose paintings have a distinctly yellow finish. This is also where you will find Beco do Batman, or Batman Alley, which is a winding narrow alleyway full of works of street artists, and, of course, tourists taking photographs of them.
Paris
Image by Pop H under Creative Commons license.
Paris may be the city of romance, but it also has a growing culture of respected street artists, which is a little surprising given the city's tough stance on vandalism. You'll see galleries, such as Galerie Perrotin, Galerie Jérôme de Noirmont and Galerie du Jour, representing street artists, while auction houses, such as Artcurial, hold sales focused completely on street art alone.
Head to Belleville and Ménilmontant to see works by Blek le Rat, Mr Chat and Vexta. Or, if you're lucky, you could spot street artists at work around Rue Oberkampf. It's fascinating to see how the pieces are created.
If you enjoyed this post like us on Facebook and follow us on Twitter or subscribe to our YouTube channel.
Written by Paula Gardner. Paula is a travel writer and blogger at Soothed in the City. Paula's passion is mindful travel, using as many senses as possible to deepen the travel experience. She loves street markets, learning how to cook regional food, trying local wines, and chilling at pampering spas. Follow her on Instagram and Twitter. Top