Faster and smarter in the app...
Open app
8 Facts About India That Might Surprise You
Facts about the fascinating Asian country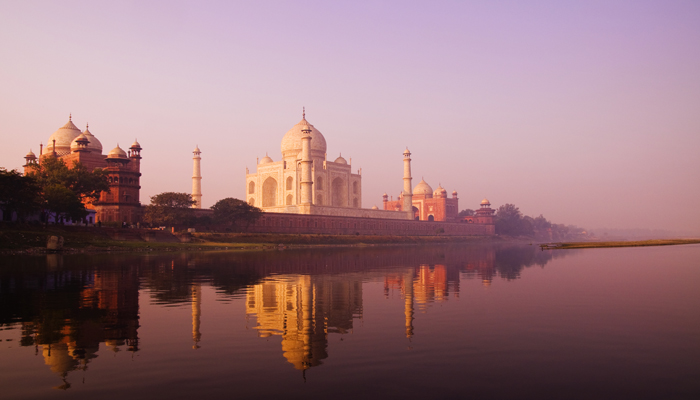 1. India is BIG
India is big. Really big. You just won't believe how vastly, hugely, mind-bogglingly big it is. Reaching almost 2,000 miles from Kashmir in the north to Tamil Nadu in the south, and a similar distance from east to west, the sheer scale of India means it is very unlikely you'll be able to experience the whole country in just one trip. It's best to select two or three key regional hubs (for example Mumbai, Panjim and Bangalore in the south, or Kolkata, Darjeeling and Lucknow in the north-east) and give yourself plenty of time to travel between locations -- you can always return if you want to see more.
2. There are 22 official languages
Along with its physical size, India is renowned for its regional diversity -- in language, culture, food and architecture. That diversity makes the country endlessly fascinating, even to those who have visited before -- but it can make trying to learn the local lingo more challenging than usual for travellers who like to pick up a few phrases. Make sure you check the local language before you leave (Hindi won't get you far in the south) and pick up an appropriate phrasebook or two.
3. There's more to Indian cuisine than Chicken Tikka Masala
A trip to India will acquaint you with dozens of delicious dishes that aren't easily found in the UK. Up in the hills you'll find delicate steamed dum pukht slow-cooked in a sealed pot over a low fire; simply-cooked fresh fish in Kerala and Goa; and scrumptious masala dosa all over the south. One of the best ways to experience Indian cooking, especially if you're spectacularly hungry, is an all-you-can-eat thali -- a huge pile of rice served with several different kinds of curry and vegetable, topped up whenever your plate looks empty. Hard to beat for taste and value, the best are found at roadside cafes and served on a fresh green banana leaf.
4. Kolkata is a great city to visit
Kolkata (previously known as Calcutta) was for many years associated with poverty and overpopulation, particularly following India's war with neighbouring Bangladesh in the early 1970s. In the last quarter of a century, however, Kolkata has seen profound economic and infrastructure development, and today is a beautiful and fascinating city rich with history and culture. Don't be afraid to visit -- and don't limit yourself to the tourist centre of Sudder Street, either. Kolkata has much more to offer than backpacker hostels, and it's a great place to begin a mountain trekking holiday in West Bengal.
5. You won't be able to find a decent cup of tea
For a country that produces a quarter of the world's tea, India as a nation really doesn't seem to know what to do with the stuff once it's grown and processed. Indian chaiwallahs overwhelmingly serve tea powder boiled in sweetened milk for upwards of an hour and left to stew all morning to produce a substance almost, but not quite, entirely unlike tea. If you're a fan of tea brewed the way God intended, it's best to self-cater, using your own tea bags.
6. You can have a great trip to India without ever venturing into the "Golden Triangle"
Countless visitors to India spend their first encounter schlepping between Delhi, Agra, Jaipur and Varanasi according to an itinerary promoted by external agencies as a trip through the very best India has to offer. This tactic has led to the "Golden Triangle" becoming one of the most overcrowded, over-touristed, overpriced and underwhelming portions of the entire subcontinent. Not only are there other parts of India, there are other parts of India that are substantially friendlier, more beautiful, less polluted, and less generally stressful than these four cities. If you'd like to visit Rajasthan, try heading further west to the peaceful holy city of Pushkar or the lovely lake city of Udaipur; or why not approach Varanasi from Kolkata (see above) rather than Delhi?
7. The Taj Mahal isn't the only beautiful building in India
The Taj is without a doubt India's most iconic architectural site, and many people travel to the country simply to view it. That's a shame, because there's a wealth of other buildings and sites in the country that often get overlooked in the Taj's shadow. The Sri Meenakshi temple in Madurai, Tamil Nadu is a striking example of Dravidian architecture; the Ellora caves near Aurangabad in Maharashtra are full of stunning rock-cut sculptures; and the 16th-century Mattancherry Palace in Cochin, Kerala is well worth a visit for its painted murals and polished wooden floors. Look beyond Agra, and India's wealth of architecture might just surprise you.
8. Most Indians really do just want to help
The Golden Triangle (see above) and Delhi in particular are well-known among travellers for the number of commission-merchants and scam-artists whose primary motivation is to separate unwary tourists from the contents of their wallets; visitors to these areas are wise to be cautious. Outside of the major tourist centres, the majority of Indians really do want to help you have a good experience of their country; it's not uncommon to be invited to somebody's house for tea or dinner, and travellers to India often make lifelong friends with local people they meet on the road. Use your common sense and follow your instincts, but remember that the majority of Indians genuinely do want to give visitors a warm welcome.
If you enjoyed this post like us on Facebook and follow us on Twitter or subscribe to our YouTube channel.
Written by Lise Smith, a former contributor to Lonely Planet's India guidebook - she's seen her fair share of hotel rooms (both grotty and glamorous!). She learned to walk in a hotel corridor in Tunisia, and at the age of three had been on more aeroplanes than buses. Lise writes for a number of local news, technology and arts publications.
Top