Faster and smarter in the app...
Open app
Love Locks Around the World
Declare your love on a padlock bridge...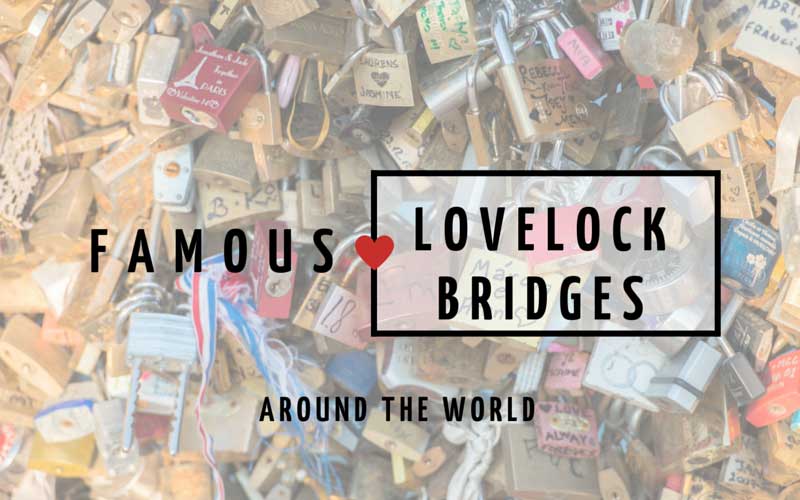 Love locks have gained in popularity, for better or worse, and have become a frequent sight on bridges in cities all over the globe. A love lock is simply a padlock that two lovers attach to something like a bridge, fence or tree. It is then tradition for the couple to throw away the key, symbolising their enduring love for each other that can never be broken. Often, they will also carve their initials onto the padlock as a lasting reminder to those who pass by. In a world where love is more often celebrated on the pages of Facebook or via Snapchat, the symbolism of a love lock can seem like an especially romantic way to declare your feelings. Check out our best budget ideas for a romantic city break, don't forget your couples travel insurance, and read on for everything you need to know about the padlock bridge and its love locks.
A Brief History of Love Locks
The tradition of love locks fastened to bridges is believed to have begun in Serbia during World War I, after a woman died of heartbreak when her lover deserted her for another woman he met at war. The local women, horrified at befalling the same fate, began to fasten padlocks on the bridge where the two lovers used to meet. Today, love lock bridges can be found all over the world. Here are some of the best known bridges for declaring your everlasting affection for your one true love.
The Most Famous Love Lock Bridges
Pont Des Arts Love Lock Bridge - Paris, France
Probably the most famous padlock bridge in the world is the love lock bridge Pont Des Arts in Paris, which hit the headlines in 2014 after one of the parapets of the bridge buckled under the weight of the estimated 700,000 padlocks. You may notice that many of the bridges on the Seine are now used by lovers in the same way. Those of a less romantic or perhaps more practical persuasion look at these padlocks as a form of vandalism and have created a campaign, No Love Locks, that is growing in momentum amongst local Parisians.
New York City, USA
Yes, the trend has now crossed the Atlantic and hit the States. The Brooklyn Bridge has been sporting locks for the past five years, along with other tokens of love such as baby dummies and vacation mementos. Just like Paris, New York officials are not happy and they are periodically removed.
Las Vegas, USA
Finally, whilst Paris may be the most notorious location for love locks, the Paris Las Vegas Hotel in Sin City is now a popular location as well. The bridges are less scenic, as you can imagine, and locks may only be fastened on designated 'Locks on the Bridge' fencing. Worryingly, many lovers started throwing their keys off the hotel tower forcing the property to begin supplying padlocks without keys for free to stop this from happening.
Venice, Italy
What better place to find a love lock bridge than in Venice, a city of bridges? The three main bridges to find locks are the famous Rialto Bridge, the Ponte degli Scalzi and the Ponte dell'Accademia. If you're tempted to take part in the tradition, do be warned there is a campaign to make it a 3000 Euro fine if you are caught fixing a lock.
Dublin, Ireland
Even Ireland isn't immune to the romantics of the world. You'll find love locks on the Ha'penny bridge, Rosie Hackett, Millennium Bridge, and even the Boardwalk balustrade. Local government officials are not supportive unfortunately and regularly remove the offending locks. They are, however, looking into erecting alternative structures where people can use padlocks to illustrate their love.
Cologne, Germany
Hohenzollern Bridge, which spans the Rhine River, is where you'll find the locks in Cologne. Unlike the cities we have looked at so far, Cologne seems to not only accept the locks, they embrace them. A previous attempt to remove the locks provoked a public backlash and the locals now promote the Hohenzollern Bridge as a tourist destination for lovers.
Disclaimer! As you can see, many of our love lock destinations are not as enamoured of the tradition as the lovers themselves. You may find that your visit happens just when the local authorities are cleaning up and you won't find as many locks as you'd expect.
If you found this post on love locks around the world inspiring, you may want to read more of our Wanderlust articles. Also check out our travel blog for additional inspiration and travel tips to make your holidays hassle-free!
If you enjoyed this post like us on Facebook and follow us on Twitter or subscribe to our YouTube channel.
Written by Paula Gardner. Paula is a travel writer and blogger at Soothed in the City. Paula's passion is mindful travel, using as many senses as possible to deepen the travel experience. She loves street markets, learning how to cook regional food, trying local wines, and chilling at pampering spas. Follow her on Instagram and Twitter. Top