Faster and smarter in the app...
Open app
7 European Cities to Spend August Bank Holiday Weekend
You deserve a getaway.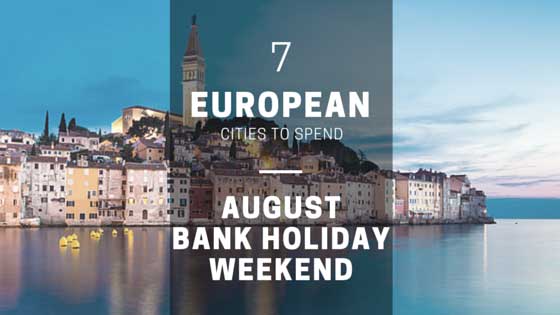 Bank Holiday weekends are the best, aren't they? Almost everyone in the country gets an extra day off work, and people actually smile at each other. Imagine that!
Summertime Bank Holidays are built for short breaks away in Europe. The extra day means that the weekend is transformed from 'recharge batteries' to 'explore somewhere new'. If you're wondering how you can make the most of this Bank Holiday weekend, then we have some suggestions which are only a few hours' flight away. Perfect for a two night break away from it all.
1. Riga
There's no better time to visit Latvia's capital than in summertime. In winter, the River Daugava freezes solid, but August brings temperatures in the high teens and early twenties, and the city comes alive.
Wander the streets, drinking in the spectacular architecture, or if you're partial to a real drink, then take your pick from the hundreds of bars and cafes which spill out onto the cobbled streets.
2. Rome
One of the most historically enchanting cities on Earth, your two nights in Rome will be packed full. Visit the crumbling Colosseum, throw a lucky coin into the Trevi Fountain, climb on a horse and carriage for a new perspective and enter the Vatican City, home of the Pope.
All this with a side of authentic crispy pizzas, mouth-watering pastas and melt-in-your-mouth gelatos, as well as some zingy local wines. Delicious!
3. Barcelona
Another city with a rich and varied history is Barcelona, in Spain's Catalonia region. In fact, don't even think about speaking Spanish to the locals here. They speak proud Catalan!
A peek inside Gaudi's seemingly impossible-looking Sagrada Familia, which after 120 years is still under construction, will be a highlight of any trip to the city, as will a walk around Park Güell, with its spectacular views for miles around.
4. Dubrovnik
Any Game of Thrones fan will recognise Dubrovnik as the city of 'King's Landing'. Situated by the Adriatic Sea, this Croatian gem is famed for its red roofing and is encircled by a looming wall.
After exploring the Old Town, take a break from the summer heat and sip on local wines in the cool sea air, or hop on a boat to explore the turquoise ocean.
5. Budapest
If you're hungry for Hungary, than Budapest will hit all the right spots. It's romantic, relaxing and adventurous, all in the right quantities.
Romantics will be bowled over by the views of the Danube from its many bridges, those wishing to chill out can take their pick from 118 natural hot springs, and adventure-seekers can bike or take a Segway around the awesome Art Deco city centre.
6. Berlin
Don't expect to return to work feeling refreshed after a weekend in Berlin. When it comes to partying, the Germans sure know how to do it, with weekends running well into weekdays!
Aside from incredible partying, you can fill your days with culture at the Berlin Philharmonic, with history at the remains of the Berlin Wall and with shopping galore at Mauer Park Market.
7. Lisbon
Portugal in August is a scorcher, but it's no sweat for Lisbon, as the city literally faces the sea to make use of that cool ocean air.
Sit amongst the bleached limestone houses, churches, restaurants and fountains and dine on fresh sizzling sardines, and then take the tram through the Victorian-era streets to a cosmopolitan selection of bars to try incredible cocktails or local Port Wine.
So whether you're planning a city break or planning to explore closer to home, we wish you a wonderful (and hopefully sunny) August Bank Holiday weekend.
If you enjoyed this post like us on Facebook and follow us on Twitter or follow our YouTube Channel.
Hayley Griffiths blogs over at the Lovepuffin Travel Blog. She aims to inspire 'Adventure for the Unadventurous', as no matter how unlucky, flat-footed or clumsy you may be, she is more-so, and manages to travel anyway! From yoga in India to bungee jumping in Canada, she is conquering the world, one adventure at a time. Follow her on Twitter and on Facebook.
Top