Faster and smarter in the app...
Open app
Children's Luggage: Is the Trunki Suitcase the best?
From the airport to the hotel, make your child's luggage fun.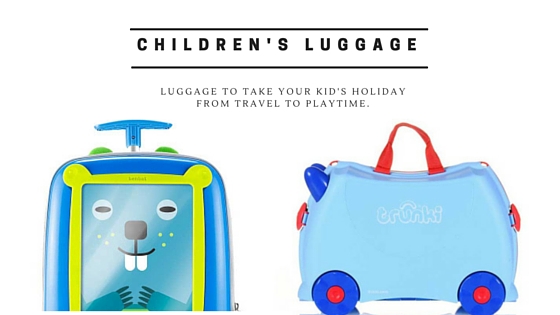 Children can take their own luggage on board most airlines, with some carriers offering them as generous an allowance as that of adult travellers. Despite this, many parents still cram their kids' items into their own bags, limiting what the family can carry as a whole, and missing out on a world of extra space. What's more, the luggage industry has come up with some rather ingenious solutions to kids' carry-on in recent years, and you'll find these miniature pieces are both practical and fun. Read on for a few of our favourites.
Trunki ride-on luggage
Trunki is perhaps the best-known maker of luggage for children, due to its innovative and cute approach to design. The ride-on pieces are enormously convenient for parents who need to get from A to B quickly, and are tremendous fun for their charges as the small suitcases double up as toys. Choose from a wide range of animal-inspired models to ensure easy recognition, and you and the kids can even design your own Trunki for extra creativity points. At £39.99 for the classic ride-on pieces, these rugged cases offer great value for money.
Benbat GoVinci pull-along
Another suitcase range that's fantastic for creative kids is the Benbat GoVinci range, which features a clear panel that can be used to display the owner's latest work of art. The cases come with ready-made images that slot into the panel, and can be used as a desk for on-the-go drawing sessions, which can be a great way to keep kids occupied during long layovers. Equipped with rugged, wipe-clean casing and chunky wheels for easy travelling, these colourful cases are a great holiday ally. The GoVinci range is easily available online or in store at Mothercare for £34.99.
Little Life suitcases
We don't think you can go too far wrong with a bag that's shaped like a dinosaur (or ladybird, or turtle), and sure enough the Little Life range of lightweight children's luggage pieces is a great all-rounder that will appeal to kids and parents alike. Unlike many of the alternatives on the market these cases are soft-sided, which makes it easier to squish them into tight spaces. They are, however, made from tough stuff, and will keep your kids' items well cushioned. £39.95 at John Lewis.
My First Samsonite
Luggage legends Samsonite have created some kid-friendly luggage pieces that many adults would covet, and there's a wide range of items from backpacks to roller cases to see your brood from home to resort in comfort and style. A current favourite among young travellers is the Samsonite Disney range, which includes this cute polkadot rucksack modelled on Minnie Mouse (£59 direct from Samsonite), which is small enough to take on a plane, packed with papers, pens and other in-flight essentials for the kids. Elsewhere there's a whole menagerie of animal-themed roller cases, all made to exacting standards and with the higher-end prices you might expect: check out the Sammies bus bag from £60.
Maxi Micro Luggage Scooters
Gone are the days when parents were slowed down by short-legged family members as they rushed to catch their next flight: the scooter sensation that's long been a fixture of the school run is now infiltrating the world of international travel, as scooters and bags have now been combined in one speedy and clever hybrid. At £179 the Maxi Micro Luggage Scooter is not cheap, but when you consider that both bag and scooter can be separated and used as everyday items in their own right, we think it's a bit of a bargain. Whizz over to Maxi Micro Scooters to buy one, or to John Lewis for an even snazzier limited edition version.
Cabin Bear luggage
We can't help but love the Cabin Bear range of children's luggage, which is small enough to take on board most aircraft and has a special pouch for your child's favourite toy. These bags can be carried, worn as a backpack or rolled on wheels. and are made from strong and lightweight materials. Available in various colours for £25. Please note: BEAR NOT INCLUDED.
If you enjoyed this post like us on Facebook and follow us on Twitter or subscribe to our YouTube channel.
Written by Abi Silvester, a London-based writer and editor with a passion for great food, fine wine, coffee and cats; always planning my next trip! Follow her on Twitter.
Top