Faster and smarter in the app...
Open app
5 Ways To Travel When You Have A Full Time Job
Forget the 9-5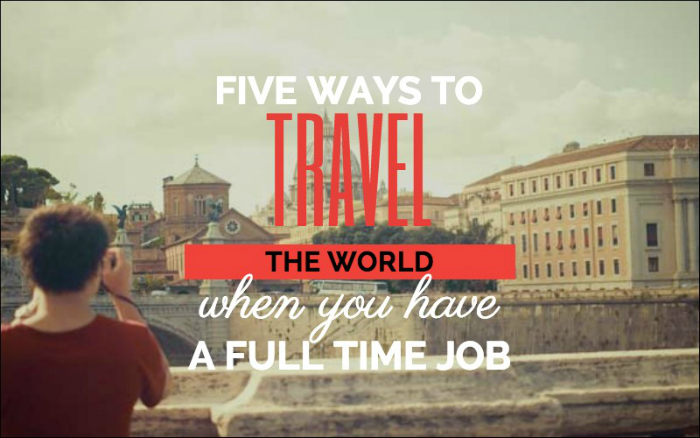 Do you ever feel like you don't travel as much as you used to? Younger people tend to be cash-poor but time-rich, and able to take advantage of bargain travel options as a result. Busy professionals often don't have those advantages – but there are ways in which you can combine travel adventures with a steady income.
1. Make short-haul travel work for you.
Holidays don't always have to be about spending two weeks on a distant continent. A short city-break can be a wonderful way to recharge the batteries and experience something new and different; a two-hour flight will take you to the south of France, the coast of Portugal, the heart of Italy or the Czech Republic. Book yourself a trip from Friday to Sunday and you won't even have to eat into your holiday allowance; weekend breaks are also an excellent way to travel if you're self-employed.
2. Use your paid holiday wisely.
If you do a little research in advance, you can make your annual leave go further by combining paid leave with public holidays. Book a day or two off before or after a Bank Holiday weekend, and hey presto – you have five days' off for the price of two. You'll need to get your dates booked before the rest of the office notices, though – and that goes double if you know you want to book time off around a popular time like Christmas or Easter.
3. Bolt-on to your business travel.
Business travel isn't always very interesting– often a business trip will consist of travel between the airport, a conference centre and your hotel room. But if your boss is happy for you to book a couple of days' holiday at the start or end, you can add pleasure to your business trip and save money on flights. Many companies also offer TOIL or time off in lieu if your trip requires weekend travel, so see if you can cash that in to make the most of your trip. You can also use any frequent flyer miles or hotel rewards points you've accrued on business trips to make your next holiday a happier one!
4. Take a sabbatical.
A growing number of companies offer employees the chance to take a sabbatical, or extended period of leave, usually after a given number of years' service. The length of sabbatical offered varies from company to company, but is usually a good number of weeks. If you're lucky enough to have a paid sabbatical as part of your employment contract, make sure you give plenty of notice and let your colleagues, manager and HR team know when you're planning to take a break – they'll appreciate having time to prepare for your absence.
Think carefully about how you'd like to use your sabbatical time – will you take a single journey around Asia or the Americas, or will you break up your travel into several shorter trips? Research travel vaccinations and medications too – you don't want your trip of a lifetime to end with an extended hospital stay.
5. Negotiate unpaid leave.
If you have your heart set on an extended break but are running out of annual leave, speak to your HR manager about taking unpaid leave instead. If you give plenty of notice and make the case for how a break could benefit you professionally, taking unpaid leave can be a way for you to get the time off you need without costing your company money. Some companies even offer employees the option to buy (or sell) extra days of holiday against salary – take this option if your basic holiday package isn't enough for the trip you're planning.
If you enjoyed this post like us on Facebook and follow us on Twitter or Google+.
Written by Lise Smith, a former contributor to Lonely Planet's India guidebook - she's seen her fair share of hotel rooms (both grotty and glamorous!). She learned to walk in a hotel corridor in Tunisia, and at the age of three had been on more aeroplanes than buses. Lise writes for a number of local news, technology and arts publications.
Top