Faster and smarter in the app...
Open app
Holiday Packing: 6 Things to Remember
Is there anything you've forgotten?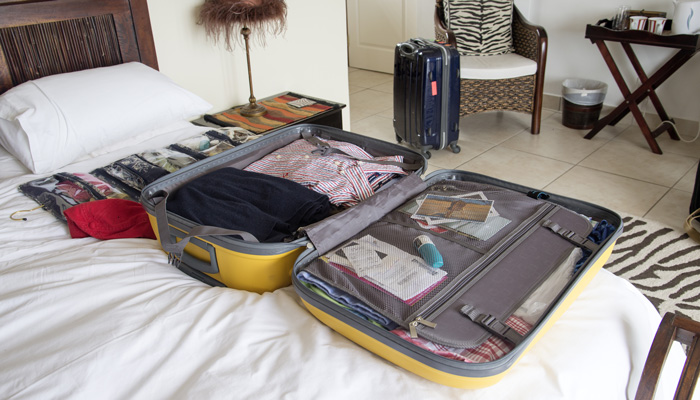 1. Passports and Visas
This one may appear obvious, but there are all kinds of potential pitfalls around passports and visas - the very documents that can mean admittance or refusal in your chosen country of destination. Ask yourself these questions:
Is your passport in good condition? Damage to these documents that goes beyond normal;wear and tear; (significant exposure to water, for example) can render them useless at customs if the information can no longer be scanned.
Do you need a visa or other additional paperwork to get you to your destination? All short-term visitors to the United States, for example, are now required to acquire a visa waiver form prior to travel: these can be usually processed quickly online for a fee of around $14 (around £8).
2. Clothing and Shoes
You might think you need no guidance on what to bring to a destination you've researched thoroughly, but don't forget the weather can catch you out, particularly if you're visiting a location where the summer season includes all kinds of weather patterns. Be prepared!
If you're flying, it's also worth remembering that it can get chilly 35,000 feet up, so be sure to pack at least one cardigan, sweater or hoodie for those occasions when the climate lets you down. Thin, fleecy items are easy to carry and will keep you warm when you need them. If you are going to a hot country, (particularly during the winter sun period) make sure you've bought enough warm-weather items in good time before you travel, as shops may be completely out of summer stock. Your best bet may be to shop online, allowing a week for delivery.
3. Medication
If you or any children you're travelling with take medication regularly, don't forget to factor in a quick audit of your current supply at least a week or two in advance of your journey. This should allow time to get prescriptions renewed and to obtain any necessary additional meds if you happen to be running low. Not having medication you're used to can ruin a trip, and there is no guarantee you'll be able to get the same drugs abroad. Don't forget that you may need to show documentation that shows the nature of any prescription drugs you are carrying.
It's also worth stocking up on any other over-the-counter remedies you might not be able to find when you reach your destination - such as painkillers or anti travel-sickness pills. But be sure to check you're not taking anything that isn't legal in your chosen country: drugs banned in certain parts of the world could take you by surprise. For example codeine, a relatively common painkiller in the UK, is illegal in Greece - and carries penalties even if you were prescribed it back home.
4. Chargers
We're increasingly reliant on electronic devices, and it's likely that you'll want to stay connected while you're away. Digital cameras, e-readers, smartphones, tablets and laptops will all need a regular charge, and you may not be able to find the right tool for the job in an unfamiliar country.
In a world that's become so dependent on the internet, it can also be easy to forget that you won't automatically have a cost-effective data plan for your phone or tablet when you go abroad. There are really two approaches: either research your options with your service provider before you go and select an option that you can plan into your budget, or stock up on old school information sources like guidebooks and maps so you don't get caught out when you can't get online. Roaming charges can be extortionate without careful planning! Check out our handy guide on data roaming charges before your trip.
5. Toiletries
'Don't forget your toothbrush'; is a holidaymakers' mantra, but if you've ever failed to take this advice you'll be well aware of how annoying it can be to find yourself in the middle of nowhere without any means of cleaning your gnashers. Of course, a toothbrush is not the only personal grooming item that can be sorely missed when you're far from home, so think about what you won't want to be without and make a list a few days before you travel. For some people, only a certain brand of shampoo will do - so you might want to pack a bottle just in case. If you use a particular brand of razor, be sure to stock up on replacement blades. And if you're a makeup addict, now's the time to invest in some waterproof mascaras and other holiday-friendly items.
Don't forget: if any of your toiletries are likely to spill over into hand luggage (and we've all been there, trying to make room for that last bottle of factor 30) - be sure to decant it into a 100ml size bottle if it's not a travel-sized item. Otherwise, you may find yourself having to hand it over at the airport.
6. Entertainment
It's likely that you'll need something to keep you occupied while travelling, particularly if you have children in tow, so don't rely on whatever you can pick up at the airport to keep everyone entertained. Think instead about all the books you've been wanting to read but didn't have the time, music you love listening to on the go, movies and TV shows, publications you enjoy, games and apps that pass the time and make a wish list. Then, it's time to buy, order or download everything that you need, and ensure that you have any essential extras such as headphones and batteries. You might also want to download some useful travel apps that will keep you informed on things to do when you reach your destination, such as recommended sightseeing trips and restaurants.
Forgotten anything?
Holiday Extras' quick packing checklist includes everything you need for your trip to go smoothly. Make sure you use our Holiday checklist and pack like a pro with our handy tips.
What's the one thing you always forget?
If you enjoyed this post like us on Facebook and follow us on Twitter or subscribe to our YouTube channel.
Written by Abi Silvester, a London-based writer and editor with a passion for great food, fine wine, coffee and cats; always planning my next trip! Follow her on Twitter.
Top