Faster and smarter in the app...
Open app
How to Deal with Lost Luggage
Lost luggage shouldn't ruin your holiday.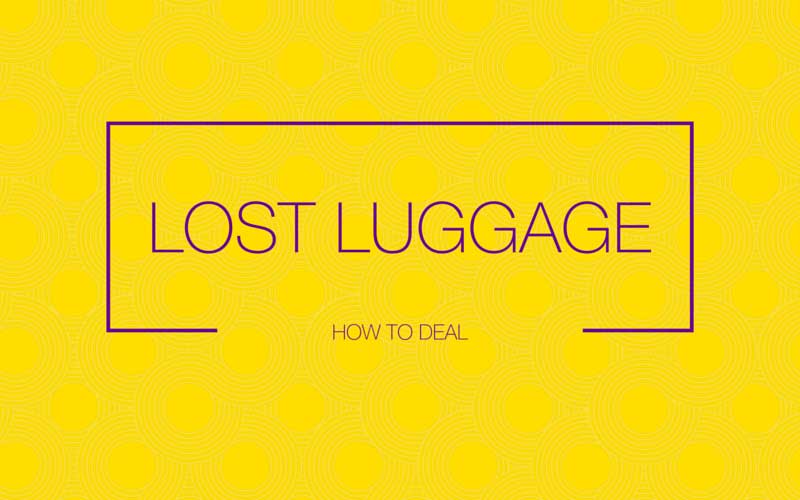 Lost, damaged or delayed luggage can be a real hassle, especially if it means starting your holiday without your belongings. While we would firstly recommend taking out lost luggage insurance to ensure your belongings are always protected, knowing the steps to take when your bags go on a journey without you will go a long way towards minimising stress and helping you get on with your holiday. Here's our guide to keeping calm when your luggage is lost.
Before You Go
Take steps to reduce the fallout from any lost luggage by dividing belongings between suitcases so that if two or more of you are travelling with checked baggage and one suitcase goes missing, everyone will still have at least some clothes to wear. This goes double when travelling with children - make sure each child's belongings are distributed among your suitcases to avoid one of your little ones losing everything. You may want to consider giving children their own carry-on luggage, with those all important teddies and change of clothes in tow. Read our post on luggage for children for more ideas.
A list of what you've packed (or a picture snapped on your phone) will make it easy to describe the contents of your suitcase or know what needs replacing should you need to complete a claim form. Always keep important travel documents (passports, tickets, insurance details) and valuables on your person, and take medicines, spectacles and other difficult-to-replace items in your hand luggage. If you're heading on a short break, considering taking only hand luggage - that's much harder for an airline to lose!
If Your Luggage Doesn't Arrive
First of all, don't panic - it's not uncommon for luggage to be checked onto a later flight, particularly in the case of connecting flights where the bags take slightly longer to transfer through the airport than you do.
Before leaving the Arrivals hall, file a Property Irregularity Report (PIR) at the airline's customer service desk noting your flight details and a description of your bag. Your list of items or photograph will be useful here if you have one (see above). If your bag is simply delayed, the PIR will let airline staff know how to return it to you; if it's gone missing, you'll use the form to claim compensation (see below).
If you've arrived at your holiday destination with one or more bags missing, airlines are obliged to cover the cost of replacement essentials - check with the airline desk what this definition covers before you leave the airport and be sure to keep receipts for anything you have to purchase.
Delayed luggage typically turns up on the next flight, so find out when that's due to arrive and ensure that the airline has details of your accommodation so they can deliver it to you (it's the airline's responsibility to do so, and you don't need to return to the airport). For peace of mind, you may be able to track the progress of delayed bags online or by calling the airline - ask for details of how to do so before you leave the desk.
Consider purchasing a luggage tracker tag for your luggage. 'TRACE ME' offers a smart luggage tag with a personal identification number to make it easier for airlines to trace your bag if it goes missing. A smart luggage tag is also very affordable for that extra piece of mind, starting at only £12.50 a tag.
To claim for any replacement items purchased while you wait for your bags, you'll need to write to the airline within 21 days stating the flight number and date and enclosing receipts and a copy of your PIR.
If Your Luggage Is Lost
If the missing bags don't turn up at all, they will be declared lost after 21 days. To claim lost luggage compensation, you'll need to write to the airline within seven days of this period (so, after 21 days but before 28 days have passed), again stating the flight number and date and requesting compensation under the Montreal Convention for your lost items.
You'll be entitled to the depreciated value of the contents of your luggage plus the costs of any essentials you had to purchase while at your destination, so again enclose receipts, a copy of your PIR, evidence of the contents of your luggage if you have it and copies of any other communications you've had with the airline. Note that most airlines won't pay compensation for valuable or breakable items in checked baggage, so be sure to keep these in your hand luggage (see above).
In general, airlines will pay out less than £1,000 and often substantially less. If the airline suggests you contact your travel insurer for compensation, check your terms and conditions before agreeing - many policies exclude luggage left unattended in the baggage hold. Some credit cards include insurance for lost luggage when you purchase your flight ticket using the card - check with your card provider to see if this is the case.
To cover yourself for any scenario, make sure to take out a travel insurance policy which covers you in the event of lost or delayed luggage.
If Your Luggage Is Damaged
If you arrive at your destination to find your luggage is damaged and/or there are items missing, make sure you report this immediately and file a PIR as above. It's often helpful to take photographs for use in any communications with the airline after you've reported the damage. You may be entitled to have the cost of repairs, or a new suitcase, covered by the airline - ask at the airline desk what the next steps will be.
If you find that your luggage has been opened or tampered with, or that items have fallen from a damaged bag, you may need to produce evidence of any missing items in order to claim compensation. Ask at the airline desk for a form to claim lost items.
Keep copies of all your communications with the airline and be persistent - it can take several weeks for compensation claims to be paid, but knowing your rights should take the stress out of the situation.
If you found this post on dealing with lost luggage helpful, you may want to read more of our Before You Go articles. Also check out our travel blog for additional inspiration and travel tips to make your holidays hassle-free!
If you enjoyed this post like us on Facebook and follow us on Twitter or subscribe to our YouTube channel.
Written by Lise Smith, a former contributor to Lonely Planet's India guidebook - she's seen her fair share of hotel rooms (both grotty and glamorous!). She learned to walk in a hotel corridor in Tunisia, and at the age of three had been on more aeroplanes than buses. Lise writes for a number of local news, technology and arts publications.
Top