Faster and smarter in the app...
Open app
Can I Breastfeed My Baby On The Plane?
The need to know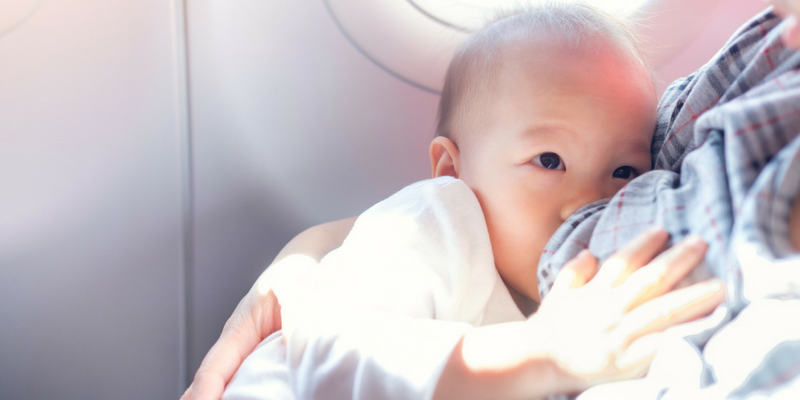 Yes! Breastfeeding during a plane journey can really help to settle baby, while they are surrounded by lots of unusual sounds, noises and people. It can be especially beneficial during takeoff and landing as the sucking and swallowing helps equalise the pressure in babies' ears, avoiding any unnecessary discomfort. Do bear in mind though that during takeoff and landing, babies under two have to be secured using a extension lap belt and in their own seat when they are over two, so it's not always the most comfortable feed!
There's no need to worry about checking airline policies. The Equality Act 2010 states: "A business cannot discriminate against mothers who are breastfeeding a child of any age," and so airlines are no exception.
Useful Tips
Layer up
Although you may be lucky enough to be going somewhere lovely and hot, the air conditioning on the plane tends to be on the cooler side; dressing baby in lots of thin layers will make it easier to dress/undress them accordingly during your journey.
Stay hydrated
Make sure you drink plenty of water during the flight; the humidity levels inside a plane are usually much lower than we are used to, so it's really important to make sure you stay hydrated when feeding.
Baby wearing
Wearing baby in a sling or carrier gives you use of both hands, which can be really useful when getting on and off the plane. It is especially practical when travelling alone, just be prepared to take baby out of the carrier when going through security and to secure them for takeoff and landing, as you will likely be asked to do so.
Pre-book your seat
Consider where you feel you would prefer to sit and book a seat accordingly. If you expect to have to be regularly getting up and rocking an unsettled baby or entertaining an unruly toddler, then an aisle seat may be beneficial. Or, consider a window seat if you would prefer more privacy when feeding. Some airlines offer bassinets for small infants and may seat you accordingly based on use of this facility - we recommend checking if this is something your airline offers before travel.
If you're lucky to find empty seats, then don't be afraid to ask a flight attendant if you can move, if you feel you'd be more comfortable with the additional room.
Scope out the airport before travel
Many airport terminals have soft play areas, which can be great for passing the time while you're waiting to board and hopefully it'll burn some energy before take off too, ensuring as relaxed a flight as possible. Or, if you would like to start your holiday early many airport lounges also have facilities for children. You can check out the lounges available at your departure airport here.
Timing is key
If you have the option to choose your flight time, then consider your child's routine and see if there is a flight available which would fit in well. Night flights are often popular as many children will fall straight to sleep. For others whose babies are early risers, then a flight first thing in the morning may work better.
Take advantage of extra luggage
Don't forget, you can usually check in your baby's buggy at no additional cost, and if you plan on hiring a car while abroad most airlines will allow you to take your own car seat in the hold too.
Have you got any useful tips we've missed? Share them with us below. And if you found this post helpful then you may want to check out the other posts on our Before You Go page. You can also follow us on Facebook and Twitter or subscribe to our YouTube channel for regular travel tips.
Written by Rosie Waite
Rosie is a keen traveller and first time mum. As a member of the contact centre here at HX she is passionate about making sure travel is as stress free as possible, especially now she's travelling with a toddler.
Top