Best Travel Size Toiletries 2016
These toiletries are ideal for your hand luggage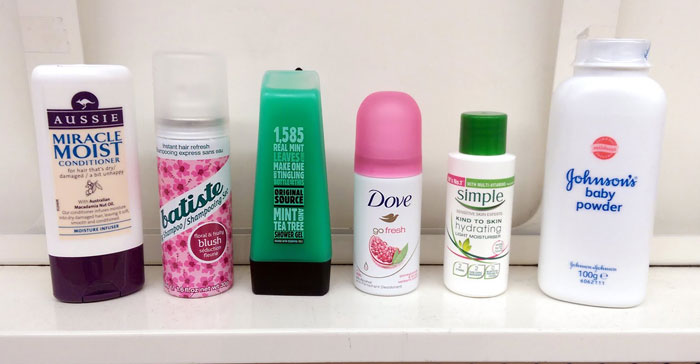 Being without your favourite shampoo or moisturiser for a week or more can put a dampener on an otherwise fantastic holiday. But gone are the days when the miniature toiletries on offer were limited to bathroom basics: there's now an impressive range of scaled-down products out there that you will want in your suitcase this summer. There's even a website devoted to them, called Go Tiny. But which ones should you pack?
Check out our hero products and essential toiletry types below.
Vaseline lip care SPF 15
Vaseline's legendary lip-pampering properties need little introduction, but this new formulation with SPF 15 is ideal for travellers. Available in the classic pocket-sized tin, it can be easily slipped into your carry-on luggage and taken out on excursions once you arrive. The sun protection will protect the delicate skin on your lips from burning, while its moisturising properties keep them quenched even in the driest heat. Pick it up online from just £1.99.
Smashbox travel size Photo Finish foundation
A foundation specifically designed to give a flawless photo finish in a handy travel-sized tube. What's not to love? Smashbox has tuned its innovative approach to beauty products perfectly to the needs of the holidaymaker market, and come up with a light and oil-free primer that won't weigh down skin in hot weather, and fits neatly in your luggage. Pick it up for £12.50 at Boots.
Andrex travel toilet tissue
It may not be the most glamorous thing you'll ever stash in your suitcase, but a pack of travel toilet tissue really comes into its own when you're travelling. Better still, bring a pack of moist toilet wipes that can be used for multiple purposes: these double up as make-up remover pads or general face wipes, and are particularly useful if you're travelling with kids. Andrex Washlets are a good bet at £1.99 from Boots.
Magicool Hot Weather Cooler
What could be more welcome than a cooling spray on a blisteringly hot day? Ideal for those undertaking long car or train journeys in warm climates, Magicool's Hot Weather Cooler is a great little invention. Described as 'air conditioning in a can' it requires no refrigeration and fits comfortably in a knapsack or handbag. Simply spray over the face and body for instant relief. £4.99 at Superdrug.
5. Shampoo for your hair type
As anyone with dry hair, oily hair or hair that needs a bit of help in the dandruff department will tell you that you can't just rely on any old shampoo - especially not when you're on holiday and there are photo-ops to be had! Fortunately the beauty industry has responded to this need, so be sure to pick a shampoo and conditioner combo in line with your usual hair care routine. Frizz Ease has a wide range of travel products available, for example, as does Head & Shoulders.  Aussie's Three Minute Miracle (£2) is also a great option for dry hair in hot climates.
Quickies mini nail varnish remover
Holidays present the ideal opportunity for painting toes and fingers every colour of the rainbow, and for all kinds of experiments in nail art. Unless you want to be stuck with the same nail varnish for the duration of your trip, a remover will become essential at some point. Nobody wants to travel with bottles of flammable liquid (and your airline certainly won't thank you if you try), so we recommend a compact pack of nail varnish remover sheets such as Quickies travel pads. At just £2.10 for 20 pads, you'll be able to paint your toes a different shade every day.
Johnsons Top to Toe Baby wash
Whether or not you've got little ones on board, Johnson's Baby Top-to-toe bath is a great all-purpose wash to take on your travels. It works a treat for softening hard water, so will create a pleasant bathing environment wherever you take it. Its gentle formula is particularly kind to all skin types, so you shouldn't be at risk of any bad reactions that could spoil your trip. Buy it from £1.39 at Go Tiny.
Dry Shampoo
If you're planning on an active trip where showers may not always be readily available, dry shampoo is a godsend. Campers, walkers and festival-goers have sworn by dry shampoo for years. It's also great for anyone with greasy hair who likes to 'top up' their cleaning regime between washes. This can be particularly desirable when visiting humid countries where hot and sticky air can play havoc with your hair's moisture levels. Batiste is the best-known brand, but there are others you might want to try including the wonderfully named 'Dirty Little Stop-Out' by Mark Hill: it's designed with party animals in mind, so is definitely one to consider if you're off to Ibiza!
If you enjoyed this post like us on Facebook and follow us on Twitter or subscribe to our YouTube channel.
Written by Abi Silvester, a London-based writer and editor with a passion for great food, fine wine, coffee and cats; always planning my next trip! Follow her on Twitter.
Top