Faster and smarter in the app...
Open app
Best Cameras For Holiday Photography
Get those perfect holiday snaps.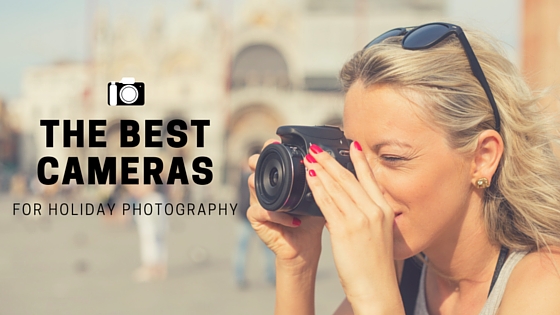 An amazing holiday deserves a brilliant camera to capture it - which is why we put together the best cameras for holiday photography. Taking a good photo used to be complicated and involve a lot of bulky equipment - but today's compact cameras have made the art of great picture-taking possible for all of us. Are you looking for a new digital camera to take on holiday with you? Check out our round-up of the best holiday cameras available for trips and travellers of all styles!
If you need ideas for other holiday essentials, check out our guides to the best travel pillows, best travel headphones, and essential in-flight accessories before you go.
Top Holiday Cameras for Travellers
Day-tripper: Point and Click Simplicity (£40+)
If you're a casual photographer who prefers to travel light, a mobile phone may be all you need to take decent quality outdoor pictures. But if you don't own a smartphone or want a little more control over settings such as zoom, light balance and focus, there's a wealth of lightweight, entry-level digital cameras to fit your needs.
At this level, digital cameras start at around £40, with basic models such as the Fujifilm S4800 (£94.79); a very user-friendly 'point and click' camera packing 16 megapixels - roughly double what you'll get on an average smartphone. It also has an optical zoom for more detailed focusing - another advantage over simply whipping out your mobile for that memorable pic.
At £100 or more you'll get a great, all-round ultra portable camera with all you need to take great quality holiday snaps, so we'd recommend looking in this price bracket if your budget allows: the Panasonic Lumix (pictured above) retails between £80 and £200, and is a lovely looking retro-inspired piece of kit: with 12.1-megapixels on board includes a 16x optical zoom Leica lens and generous 16-inch viewing screen. It also shoots HD video, so is ideal for quick-fire filming. Similar models include the Nikon Coolpix L330 (£144) and Sony Cyber-shot DSC-WX200 (£129).
Holiday Pro: Shoot and Share (£200+)
For those already thinking about their big 2014 summer holiday, investing in a camera that does a bit more than the basics could be the perfect Christmas treat. Thanks to advances in photo technology, high-tech performance cameras can be small, compact and user-friendly — and at the £200+ price point you've hit the sweet spot of quality and ease of use. These cameras are ideal for those who want to take really great pictures that can be shared and enhanced digitally - but who don't want to go down the full SLR-route.
Top of our list is the Samsung white Galaxy GC-110 compact camera (£299); an elegant and lightweight camera that offers more than your average compact. With 16.3 megapixels and a 21 x optical zoom it's already well-equipped to take fantastic photos, but this forward-looking gadget also benefits from wifi connectivity - allowing you to shoot and share in real time with up to five devices within its range. Imagine being able to snap that epic sunset while enjoying your beach holiday and have it uploaded directly to your social media accounts within seconds!
Other highly-rated products within this category include the Sony DSC RX-100 performance compact (£399) and the Canon Power Shot SX710 (£305) which includes 'old style' manual control for experienced photographers.
Trip of a Lifetime: Picture Perfection (£400+)
A compact camera just won't cut it for many serious photographers, and those heading out somewhere really special in coming months will want to be able to preserve those memories forever. Most true camera buffs are already equipped with a DSLR complete with lenses for every eventuality, so assuming you're new to the world of high performance cameras and have a little cash to spend, there's a world of exciting options.
The first question to ask when purchasing a top-of-the-range camera is whether you want a device that gives you total manual control, or an ultra smart camera that does all the work for you with outstanding results. Another concern is portability: you might get great pap shots with a gigantic telephoto lens, but do you really want such bulky hardware taking up space in your luggage?
For holiday use, we can recommend the Canon EOS 100D Digital SLR Camera (£419.95), which is particularly small and lightweight for a camera of its calibre. If you can spare a bit more room in your carry-on, its older brother, the Canon EOS 650D (£579) is highly regarded among those in the know, and was recently named best all-round DSLR for performance and value by What Digital Camera, 2013. It's also a Which? best buy.
What do you think are the best cameras for holiday photography? If you enjoyed this post like us on Facebook and follow us on Twitter or subscribe to our YouTube channel.
Written by Abi Silvester, a London-based writer and editor with a passion for great food, fine wine, coffee and cats; always planning my next trip! Follow her on Twitter.
Top