Faster and smarter in the app...
Open app
6 Of The Best Gap Year Travel Routes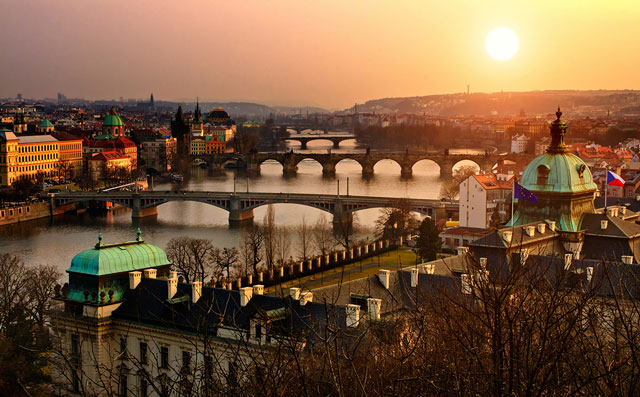 Gap years are a rite of passage for all those savvy enough to know that opportunities for extended holidays are few and far between. The 'gap' between school and university has traditionally been the time to do it, but there's an increasing trend for people to take a long break between jobs, after graduation or even before starting a family - so if you're in one of these groups looking for one last stab at adventure, where can you go to get your fix? Here are a few tried-and-tested routes for gap year travellers.
Gap year travel is generally classed somewhere between 'no frills' and 'roughing it', so most of the popular routes can still be visited on a shoestring budget. And for many, a big part of the appeal is the prospect of leaving worldly possessions at home, strapping on a backpack and just seeing where the open road leads.
Southeast Asia: Thailand - Laos - Cambodia - Thailand - Malaysia - Vietnam
Southeast Asia has appealed to backpackers and gap year travellers for decades, and the best-trodden routes show no signs of falling out of favour. Why? Besides the months of warm, sunny weather, this route is ideal for those who want to combine culture with as much lazing around as possible - on some of the world's most gorgeous beaches. Not to mention the ultra-affordable food, lodgings and transport options.
There are several possible itineraries depending on budget and time, but the vast majority of visitors to Southeast Asia begin their trip in Bangkok, making it a natural place to start your journey. The majority of this extensive route is accessible by train. Cheaper flights and packages can be obtained through STA Travel for younger travellers, and the backpacker specialist often has highly affordable deals for those of all ages.
South America Andean Trail: Ecuador - Peru - Bolivia
The possibilities for sightseeing and new experiences are endless on this vast and varied trail, which is why it's been popular with gap year travellers for so long. With once-in-a-lifetime destinations such as the Inca Trail, Lake Titicaca and Amazon River, this is one to take your time over if your everyday commitments and budget will allow it. Some adventurous and time-rich travellers also choose to strike off the beaten path and visit the Galapagos Islands, with their unique animal inhabitants.
The most popular attraction on this route is of course the Inca Trail to Machu Picchu (Peru), and there are several low-cost options for guided tours around the ancient ruins starting at Cuzco, including this deal from Intrepid, which works out at £92 per day. Finish up at the lofty city of La Paz, Bolivia, where you can literally end your journey on a high.
Central America: Mexico City - Belize - Guatemala - Honduras - Nicaragua - Costa Rica
With its Mayan ruins, beautiful beaches and a handful of countries so close together that inexpensive overland travel is possible, it's no wonder the Central American trail is one of the most accessible and popular gap year choices. Most travellers touch down in Mexico City, and make their way south from there, taking in the hippie paradise of San Pedro La Laguna, the Mayan ruins of the Cancún peninsula and the Colonial city of Antigua in Guatemala.
Australia's West Coast
Down Under is a backpackers' favourite that has the advantages of being an English-speaking country for those who find language-learning a bore, as well as its sunny climate, opportunities for outdoor activities and spectacular terrain. Australia also boasts one of the world's most extraordinary coastlines, and it's the West Coast that tends to draw the most gap year visitors. Here, you can hop between Islands, experience the beauty of the 'Coral Coast', and see some of the world's most stunning sunsets over the Indian Ocean.
Perth to Darwin is the route you'll want to hit up to best experience what the coast has to offer, and there are several established 21-day tours if you want a guided option. Alternatively, you can take the coastal route by road trip - check out this suggested itinerary for some great places to stop en route.
Europe by train
The Interrail pass has long been a European backpackers best friend, and it's now just one of many discount schemes being offered to younger travellers looking to broaden their horizons. The 'global' passes are valid in more than 30 countries, and cost £485 for a month of continuous travel (a normal adult pass is £913), making this a great opportunity for those aged 25 or under.
Popular European routes for gap year travellers include:
Paris - Interlaken - Munich - Prague - Berlin - Amsterdam (Western Europe)
Slovenia – Croatia – Hungary – Slovakia – Poland (Krakow and Warsaw) – Lithuania  – Latvia – Estonia. (Eastern Europe)
Wondering if you've got what it takes to go on a backpacking or gap year adventure? Check out our tips for backpackers for information on everything from finances to footwear.
If you enjoyed this post like us on Facebook and follow us on Twitter or subscribe to our YouTube channel.
Written by Abi Silvester, a London-based writer and editor with a passion for great food, fine wine, coffee and cats; always planning my next trip! Follow here on Twitter
---
More articles of interest:
The Best Travel Apps - Make sure you're powered up for your travels with the best, most useful travel apps, including trip planners, travel trackers, transport assistance and more to help you save time and trouble, maximise the experience and make your travel the best it can be.