Faster and smarter in the app...
Open app
The Cheapest Days to Fly
When to buy airline tickets, and the cheapest days to use them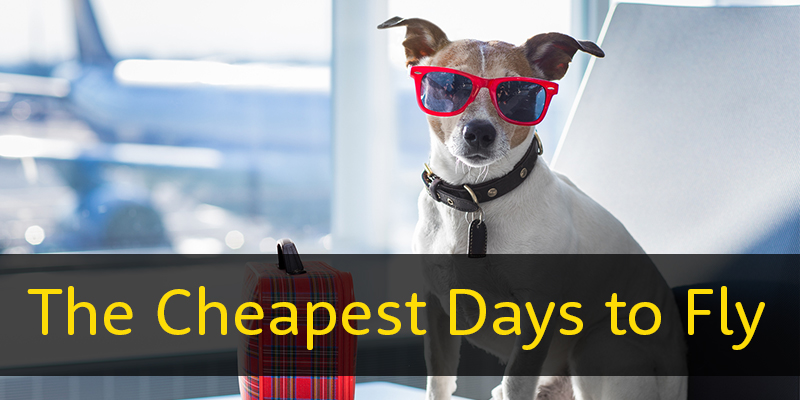 The internet is a weird and wonderful thing. Despite its pitfalls, it's provided us with many incredible opportunities, like being able to talk to people from all over the world, find information at the touch of a button or two, and spend our entire day looking at photos of cats. If that wasn't enough, it's paved the way for the transformation of the travel industry, allowing us to skip having to spend precious hours wasting away in a grey office with a single poster of a dodgy-looking beach plastered on a wall, and instead gives us the power to do it all ourselves. However, in the words of Uncle Ben (no, no that one), "with great power comes great responsibility".
If that's the case, then, how do you go about keeping those prices down?
Don't Book Flights on a Friday
We know how it goes; you've been stuck in the office all week, all your work is done and you've got nothing left to do but twiddle your thumbs until the sweet release of 5pm. So you just do a bit of idle searching for a holidays, right? And who knows...maybe - just maybe - you find your ideal holiday; the one you've been dreaming about your entire life. So you decide you want to take the plunge. It's Friday, right? Well hold it right there, bucko. According to Expedia and the ARC (Airlines Reporting Corporation), prices are actually at their highest on a Friday, thanks to the one-two combo of airlines often hiking up ticket costs and running out of cheaper seat around this time.
Book Flights on the Weekend
But if Fridays are out of the question, when should you book your tickets? Well, for the eagle-eye amongst you who read the heading above, the weekend - or early week at a push - is perfect for snagging those cheap tickets. According to Expedia and the ARC, Sundays are the best days to be buying your flights - you can often save up to 13% from the Friday price - with Tuesday being the cheapest weekday. So if you find that dream holiday you've been wanting for the past thirty years, just have a little more patience!
Things to Bear In Mind
As with most things in life, it's not quite that simple, however. Since prices vary from one day to the next, it may seem that they change depending on how the airlines are feeling that particular day...but fortunately, they tend to follow some pretty predictable trends - the higher the demand, the pricier the ticket. So if you're looking smack-bang in the middle of the summer holidays, for example, there's only so much you can do. However, here are our top tips to limit the damage!
Be flexible!
This applies to a whole host of different aspects of booking a holiday. Instead of booking with a specific airline, try a service like Expedia or Skyscanner to search for the cheapest flight you can. Even better, if you can be flexible with what day you travel, you can often save a pretty hefty amount of money. And, if you really don't care about where you go, as long as you go on holiday, try looking at a few different destinations. If you can find some suitable deals on specific locations, even better.
Do your research!
Although you might think that the earlier you book your ticket, the cheaper it'll be, that's - bizarrely - often not the case. There's usually a sweet spot a number of weeks before your departure in which prices are the cheapest. It varies from destination to destination, but generally speaking if you're going to Europe, four to eight weeks is usually a safe bet, which rises to 22 weeks for the USA. For a more comprehensive list, Skyscanner has a fantastic tool that will allow you to enter where you are flying to and from, and it'll tell you how far in advance to book your ticket to get the cheapest price.
For more flight shopping tips, tools and hacks, take a look at our how to get cheap flights page.
So there you have it! Deciding what day to travel to save the most on your ticket isn't an exact science, but with a bit of jiggery pokery you can usually get a pretty decent saving when you book...and the more flexible with when and where you fly to, the better.
If you enjoyed this post, subscribe to our YouTube channel for more travel guides and new videos from our studio. While you're at it, why not like us on Facebook, and follow us on Twitter and Instagram for daily content to help you travel better.
Top